PHOTOS: Lea Michele & Ashton Kutcher Share A New Year's Eve Kiss -- In March!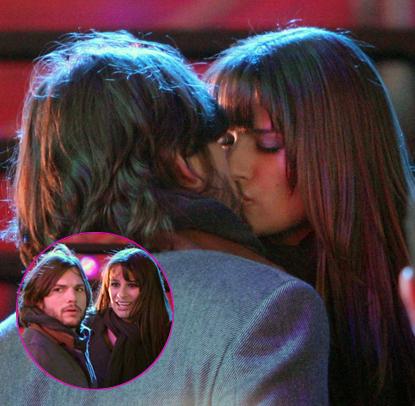 Relax Demi, it's just make believe.
Nonetheless, the sparks looked like they were flying between prankster Ashton Kutcher and Glee's Lea Michele as they filmed a passionate, lip-locked embrace on the Times Square set of their ensemble film New Year's Eve Wednesday, and RadarOnline.com has all the pictures for you.
"It's freezing but I don't even care cause we're having so much fun!" the 24-year-old Glee star tweeted from the New York set of the film. "It's so incredible to be here right in the middle of everything! The energy is unreal!"
Article continues below advertisement
The film, directed by Garry Marshall, marks Michele's silver screen debut; it boasts one of the deepest casts in history, boasting names like John Stamos, Jessica Biel, Halle Berry, Josh Duhamel, Katherine Heigl, Sofia Vergara, Hilary Swank, Michelle Pfeiffer, Alyssa Milano, Zac Efron, Abigail Breslin and last but not least, Robert De Niro.
Glee airs Tuesday night at 8/7c on Fox; New Year's Eve hits theaters December 9, 2011.