VIDEO: Lea Michele Surprised By GQ Photo Backlash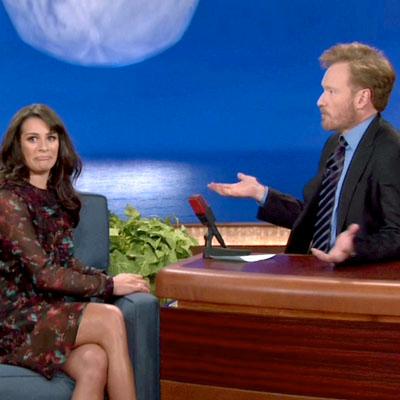 Glee's Lea Michele had the honor of being a guest on Conan O'Brien's brand new show Monday, and the brunette beauty's recent controversial GQ spread was prime comedic fodder for the returning late night host.
Watch the video on RadarOnline.com
As we previously reported, Michele, and her Glee co-stars Dianna Agron and Cory Monteith, raised eyebrows with a sexy spread in November's GQ magazine that had some contending was inappropriate for actors identified with the high school characters they play on TV.
Article continues below advertisement
Michele said she never thought the controversy would "be a big deal as it was" and that she and her Glee colleagues were "just having a good time" working with renowned photographer Terry Richardson.
That's when O'Brien injected his humor into the situation, as he did his best to "unsexy" the photos - photoshopping images of his pasty, awkward high school self in with the steamy Michele pics.
On the program, O'Brien proved his previous "no actors as guests" edict false, as he welcomed Michele, Knocked Up star Seth Rogen, as well as The White Stripes guitarist Jack White.
Conan airs on weeknights on TBS at 11/10c, with Lopez Tonight following at 12/11c.
RELATED STORIES:
VIDEO: Welcome Back Conan - O'Brien Sizzles In Late Night Return