Lea Michele And Alec Baldwin Team Up For The Animals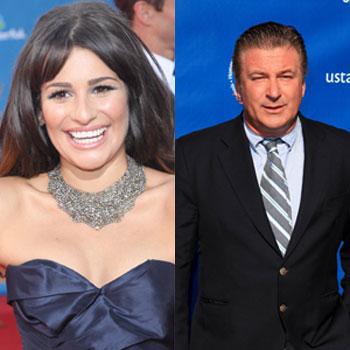 On September 25, a star-studded list will join together for PETA's 30th Anniversary Gala and Humanitarian Awards.
PHOTO: Pamela Anderson's Sexy Banned PETA Ad
Alec Baldwin is set to host the ceremony at the Hollywood Palladium. "PETA has become a cultural force through creative campaigns that have made society reexamine its relationship with animals," says the 30 Rock star who has been a spokesperson for the organization since the 1980s. "Nobody looks at fur, meat, circuses, or animal testing the way they did 30 years ago. PETA has brought us a long way, and we have a lot to celebrate."
Article continues below advertisement
Awardees include Glee's Lea Michele, Twilight's Kellan Lutz, Angelica Huston, Bob Barker, Christian Serratos, Dave Navarro, Eli Roth, Joanna Krupa, Olivia Munn and Woody Harrelson.
Presenters include Pamela Anderson, Wilmer Valderrama, Casey Affleck, Joaquin Phoenix, and Bryan Adams who is set to perform his hit Everything I Do.
Karina Smirnoff Gets Naked For A Good Cause
"Thirty years ago, PETA was a handful of people in a basement apartment," says PETA President and Founder Ingrid E. Newkirk. "Now we're a global force with more than 2 million members worldwide—and we won't stop promoting animal rights until all animals, from elephants to mice, are treated with respect."