PHOTO: Pamela Anderson's Sexy Banned PETA Ad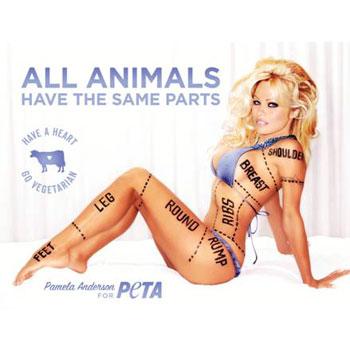 Pamela Anderson got a shock in Montreal recently when city officials banned the unveiling of her newest vegetarian campaign.
The PETA ad- which shows Anderson in a tiny purple bikini covered in paint markings mimicking a butcher's diagram with words like "breast" and "rump" written on her skin- was deemed sexist by city officials.
"As you might expect, I have to inform you that we, as public officials representing a municipal government, cannot endorse this image of Ms Anderson. It is not so much controversial as it goes against all principles public organisations are fighting for in the everlasting battle of equality between men and women," Commissioner Josee Rochefort said in an e-mail to PETA.
Article continues below advertisement
New Moon Star Christian Serratos Bares All For A Good Cause
"I think that city officials are confusing 'sexy' with 'sexist," PETA Senior Vice President Dan Mathews countered.
Nia Long Is PETA'S Newest Naked Model
Anderson also took her shot at Montreal's attitude: "In a city that is known for its exotic dancing and for being progressive and edgy, how sad that a woman would be banned from using her own body in a political protest over the suffering of cows and chickens. In some parts of the world, women are forced to cover their whole bodies with burqas—is that next? I didn't think that Canada would be so puritanical."
Anderson was set to release the campaign in an event on Place Jacques-Cartier, but city officials denied the permit at the last minute. The event was held instead at the Restaurant Globe on Thursday morning as part of a news conference for the Just For Laughs Festival.