PHOTOS: Angelina Jolie's Comic Book Creation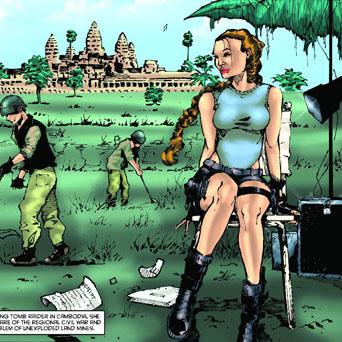 She's kicked ass as a superhero and reeked havoc as a sexy action star, and now Angelina Jolie is leaping into her very own comic book, and RadarOnline.com has an exclusive sneak peak at the never-before-seen pages.
Created by Bluewater Productions, the animated biography entitled Female Force: Angelina Jolie guides readers through her controversial life and colorful career.
From her Tomb Raider antics as Lara Croft to her heartfelt work as a humanitarian, the graphic novel covers it all.
Article continues below advertisement
"I learned a great deal about her struggles and triumphs as an actress, mother and humanitarian," said Brent Sprecher, who wrote the issue.
Click Here To See Comic Book Cuties Stripped Down Into Their Skimpy Bikinis
"Often painted as an edgy, slightly dangerous movie star, what is often not revealed about Ms. Jolie is her tireless commitment to charity work and her dedication to the plight of refugees around the world as a Goodwill Ambassador with the United Nations."