Glee Stars Shine In Upcoming Comic Book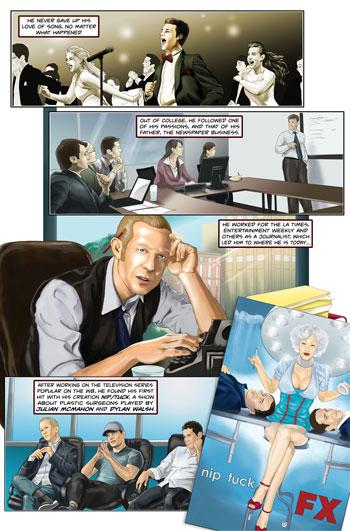 Time and time again, comic book manufacturers Bluewater Productions have shown they have their finger on the pulse of pop culture with their Fame series, an array of comic journals detailing the road to the red carpet through the eyes of of today's top entertainers such as Lady Gaga, Robert Pattinson and Justin Bieber.
Now, Bluewater's singing the sweet sounds of Glee, as the company said their next release in the Fame series will chronicle the new stars of Fox's pop culture phenomenon. The 32-page comic will give devoted fans of the Fox breakout hit an illustrated insight into the lives of stars such as Lea Michele, Matthew Morrison, Jane Lynch, Cory Monteith and Chris Colfer, as well as creator Ryan Murphy.
Article continues below advertisement
"Working on Glee was a treat," Cameron Cooke, who wrote the script for the comic, said. "Being a fan of Ryan Murphy's previous work made it very easy to jump headfirst into Glee. It made it easy to see why people are so passionate about their love for this show. It's a phenomenon.
"Glee interests me for the same reasons comic books interest me," Cooke continued. "It gives a little bit of everything to everyone, and it seems to be made for the people who love it as much as it's made for the people who work on it. Being part of a collaborative effort to bring the story of the cast of Glee to comics has been an eye-opening experience that I'll never forget."
First Look At Justin Bieber Comic Book
Bluewater's Darren G. Davis said that the "Fame series has attracted an entirely new audience to the world of comics, whether they're fans of Lady Gaga or Twilight," and that he expects "the same thing will happen with Fame: The Cast of Glee.
"I hope to see a lot of people who've never picked up comics before decide to pick up this book," he said.
The comic retails for $3.99, and can be found at your local comic book shop, or online at Amazon.com this November. For more information on Bluewater Productions, visit the company's Web site at www.bluewaterprod.com.