Exclusive First-Look at Justin Bieber Comic Book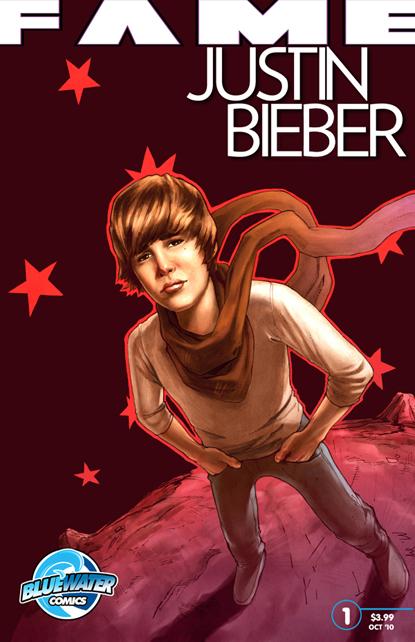 Teen pop sensation Justin Bieber's got it all: A booming music career, a dedicated fan base, a smile that makes young girls swoon and an innocence that makes parents smile. Now, the Baby singer is set to become a comic book hero, when Bluewater Productions details the adolescent heartthrob's life story in Fame: Justin Bieber.
David Beckham Immortalized In Comic Book Form
Writer Tara Broeckel Ooten said she's convinced that Bieber's no flash-in-the-pan.
Article continues below advertisement
"I'm reminded of the stories my mom tells about when she was young and Beatlemania invaded the United States. For me it was New Kids on the Block," Broeckel Ooten said. "Now today's teens and tweens go wild for Justin, and rightly so. He is a talented young musician. He has such an enormous global fan base. That and his talent will probably give him some real staying power in the industry.
"I listened to Bieber's music for the first time while working on this project, and I have to admit, it can really stick with you," Broeckel Ooten said. "I would hear it played somewhere, usually in Target, and I'd start singing along. I respect the musicianship that Bieber brings to his projects."
Taylor Lautner Comic Coming This Summer
Bieber is far from the first celeb to appear in Bluewater's Fame series, as he joins pop star Lady Gaga, Twilight star Robert Pattinson and Taylor Lautner, and soccer star David Beckham; two new issues of Fame come out this month featuring Twilight's Kristen Stewart and singer Taylor Swift.
Fame: Justin Bieber hits comic book shops and online retailers in October, and will sell for $3.99. The 32-page comic book is available for pre-order at comic book stores, as well as on Amazon.com.
For more information on Bluewater Productions, visit www.bluewaterprod.com.