Lindsay Lohan Jewelry Store Surveillance Video Hits The Web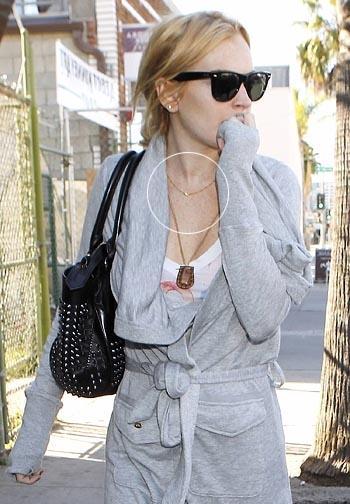 Lindsay Lohan's controversial jewelry store surveillance video, from the day she allegedly stole a $2,500 necklace, has hit the web and you can see it here.
In the security tape, posted by Entertainment Tonight, the troubled star is clearly seen entering Kamofie & Co. in Venice, Ca, with a friend.
And while the first instalment shows just 30 seconds of her browsing the store, ET promises to reveal more as they leak the full 42 minute video tonight and during the rest of the week.
Article continues below advertisement
Dressed in denim hot pants and a black shirt, Lohan, 24, is the first to open the shop door, with her male friend following closely behind her.
One of the four different camera angles then shows her leaning over the glass counter as the shop assistant places items on top of it for her to try.
Lohan slips on a couple of rings and checks out her hands before taking them off and laying them back in the tray.
PHOTO: Lindsay Rocks A White Bikini
Walking around the store in a pair of casual hiking boots, the Mean Girls actress appears calm, relaxed and smiling.
As RadarOnline.com first reported, the boutique, located on trendy Abbot Kinney Boulevard, actually sold the surveillance video from the January incident and is reported to have already made a whopping $35,000.
The release of the video has come as a shock to both the prosecution and the defense teams in Lohan's felony grand theft case.
Article continues below advertisement
But their decision to cash in on the video has created controversy about the store owner's credibility as a potential witness.
"The owners of the store's credibility is on the line, and going to be scrutinised," a source told RadarOnline.com.
"The price of the necklace is going to be revisited again For Lindsay to be charged with a felony, the necklace had to be priced at over $900.
"Her lawyer, Shawn Holley, has an argument that the owners could have inflated the price of the necklace to the authorities. Holley will likely ask that in light of these new developments that Lindsay be sentenced to jail for no more than one to thirty days. If she got sentenced to thirty days, she would serve about seven days."