Exclusive
EXCLUSIVE: Jeweler's Rep: We Sold Lindsay Lohan Video Tape Because She Hurt Our Business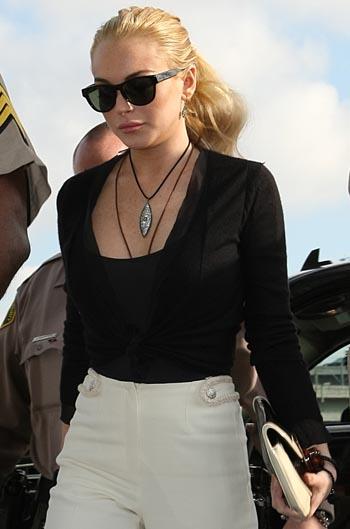 The controversial sale of the Lindsay Lohan surveillance video is being explained by a rep for Kamofie & Co. who told RadarOnline.com that the Lohan incident has cost the store owner an enormous amount of money.
"Customers have stayed away from the store because of the paparazzi and the controversy," Christopher Spencer tells RadarOnline.com exclusively. He also says the money that will be recouped from the release of the video won't come close to covering the loses. There's no profit motive, he says.
Article continues below advertisement
Spencer, who identifies himself as an expert in crisis PR, says the video has gone out to the Associated Press, who is handling the licensing and distribution of the tape and still images.
Refusing to answer any specific questions about how the release of the video may affect the case, Spencer tells RadarOnline.com, "There were literally thousands of media inquiries asking for the release of the video which is not secret evidence. The video would have been released during the trial anyway, as was stated by several prominent criminal attorneys.
PHOTO: Lindsay Rocks A White Bikini
"We worked with the non-profit organization known as the Associated Press to allow legitimate journalists and news outlets access to the video."
That access, however, is not free, as RadarOnline.com was first to report. Rights to the tape have been sold in the U.S. and abroad, for TV and the Web. A website, necklacevideo.com, has been created – apparently by the jeweler and The Spencer Company – and promises to stream the surveillance video, without specifying when.
Article continues below advertisement
The site contains text that says: "The tapes speaks for themselves. We plan to release the video streams at this site shortly." It also directs member of the press to the Associated Press "should you wish to acquire the rights" to publish the content of the surveillance tapes.
And yes, as we have reported, that access comes with a price.
As RadarOnline.com has been reporting, the release of the video has come as a shock to both the prosecution and the defense teams in Lohan's felony grand theft case.
She is accused of stealing a $2,500 necklace from Kamofie & Co., a jewelry store near her home in L.A.'s Venice Beach district.
The video was sold for $35,000, several sources tell RadarOnline.com.
The Associated Press licensed the tape to Entertainment Tonight which will broadcast it Monday. You can see still pictures from the tape here.
Lindsay's next court appearance is scheduled for March 10.
RELATED STORIES: