K-Fed Is 'Well Fed': Britney Spears Ex Husband Kevin Federline Piles On The Pounds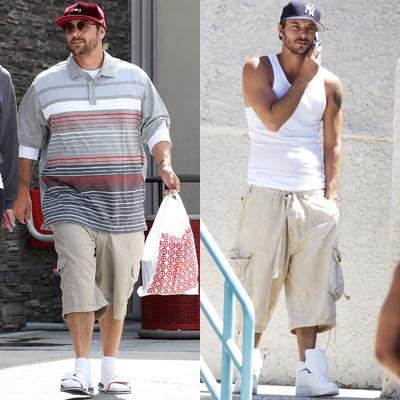 It looks like Kevin Federline is losing his 'battle of the bulge' once again after he was snapped going to a local grocery store, RadarOnline.com can reveal.
Britney Spears former 'stick-thin' dancer husband has had real trouble keeping his weight down in recent years and even appeared on the reality show Celebrity Fit Club in attempt to ditch some excess pounds..
But Monday he displayed a sizeable girth, inside a less than flattering horizontal stripped shirt, when he went out shopping with his girlfriend Victoria Prince in Woodland Hills, California.
Article continues below advertisement
The pair visited a local convenience store before hitting-up a Target to buy some groceries.
Federline, 32, looked a lot heavier than his volleyball playing girlfriend who appeared slender in comparison to her bloated beau.
In February last year, Federline, joined the cast of Celebrity Fit Club in a bid to lose the weight he put on while dealing with the stress of the break up of his marriage to pop star Britney Spears.
At his peak, he tipped the scales at a staggering 240 pounds and looked a far cry from the super-fit dancer that caught Britney's eye back in 2004.
But he worked hard and lost all of his targeted 30 lbs on the reality show - vowing: "There's no way I will ever, ever go back to that."
However, sadly, it looks like Federline, who now coaches his son Sean Preston's little league team, has piled on that excess weight again.