Kanye West & Britney Spears' Twitter War, He Does A Taylor Swift -- Again!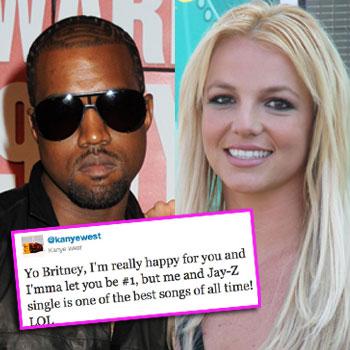 Oops, he did it again!
Trash-talking rapper Kanye West has pulled another Taylor Swift-style beat-down, but this time he has Britney Spears in the crosshairs!
The songstress' Hold It Against Me has so far topped the download charts in 19 countries, relegating Kanye's H.A.M. (featuring Jay-Z) to second position on iTunes.
"Yo Britney, I'm really happy for you and I'mma let you be #1, but me and Jay-Z's single is one of the best songs of all time! LOL," Kanye, 33, wrote to the Circus star, 29, on Twitter.
Article continues below advertisement
While West later removed the tweet, Spears' manager Adam Leber appeared none too impressed and responded on the singer's behalf.
"Thanks for 'letting' us be #1," Leber wrote sarcastically. "Much appreciated."
West later apologized, telling his fans, "On a serious note I'm truly happy for Avril Lavigne and Britney Spears. No hate in 2011... I thought LOL signified a joke."
RELATED STORIES: