Jodie Foster On Mel Gibson: 'He's So Incredibly Loving & Sensitive'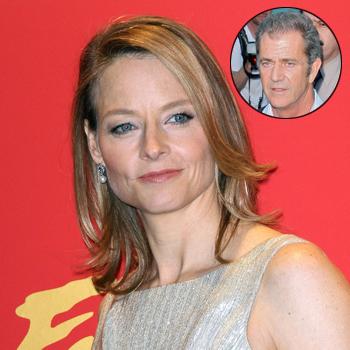 Jodie Foster is opening up, and heartily defending, her old friend and co-star Mel Gibson - declaring "He's so incredibly loving and sensitive."
Jodie is preparing for a Gibson press related firestorm as she gears up to promote her new movie The Beaver, which she directed and co-starred in with Gibson.
But if anyone is hoping for Foster to dish the dirt it seems they are going to be sorely disappointed as she only has good things to say about the troubled 55-year-old actor.
Article continues below advertisement
"He's so incredibly loving and sensitive, he really is," she tells the Hollywood Reporter. "He is the most loved actor I have ever worked with on a movie. And he's not saintly, and he's got a big mouth, and he'll do gross things your nephew would do. But I knew the minute I met him that I would love him the rest of my life."
"I know him in a very complex way. He's a real person; he's not a cardboard cutout. I know that he has troubles, and when you love somebody you don't just walk away from them when they are struggling."
Foster also talks about her "complex" relationship with Gibson, who she describes as "loving and sensitive"-- a 180 degree shift from what the public knows of Gibson's vitriolic rants recorded by ex-girlfriend Oksana Grigorieva released last year exclusively by RadarOnline.com.
Even before Gibson's recorded tirades went public, an emotional Foster was made aware they existed. And his "pain" was clearly evident in his Beaver performance, where he plays a troubled husband and executive who adopts a beaver hand-puppet as his sole means of communicating
Article continues below advertisement
"I knew about that," she says. "He was upset. Then, on the last day of reshoots of Mel, it all came out."
When the tapes were first released on July 9, Foster was with Gibson, who she described as "a mess".
"He had a lot of work to do," she said. "It was a bad situation. His assistant called me: 'Come to the trailer!' And I went to his trailer, and he was a mess. Then he came on set, and he didn't have any makeup on, anything. He came in and sat down on the chair and said, 'OK, roll it,' and did two takes that were just beautiful. Then he got on the plane and left."
It even got to the point where Gibson shared his feelings about his rollercoaster relationship with Grigorieva, who gave birth to their daughter Lucia in 2009.
"We talked about it all the way through, about what was going on in his life," says Foster, who first starred opposite Gibson in 1994's Maverick. "I don't think he told me until it was something he couldn't handle by himself."
Foster says that Gibson wasn't attached to the project from the beginning. Originally the lead went to The Office star Steve Carell, who remained attached but pulled out. When Foster came on as director she immediately thought of Gibson.
Article continues below advertisement
The actor's 2006 alcohol-induced tirade against a female police officer didn't help matters though when it came to putting together the project. In fact, it made his involvement in the film even more of a "challenge" Foster said, who then cast herself opposite Gibson in Beaver to help bolster confidence in the movie.
"He wasn't a hard sell, but it was a challenge for distribution. They wanted an anchor as well," she explains.
"God, I love that man," Foster tells The Hollywood Reporter tearing up. "The performance he gave in this movie, I will always be grateful for. He brought a lifetime of pain to the character that we've been talking about for years, that I knew was part of his psyche and who he is. It's part of him that is beautiful and that I want people to know, too. I can't ever regret that."
RELATED STORIES:
EXCLUSIVE: Oksana Grigorieva Deposed -- On Mel Gibson's Birthday
Article continues below advertisement