EXCLUSIVE PHOTOS: The Countess Lands Another TV Role -- Dishes On The New Housewives Season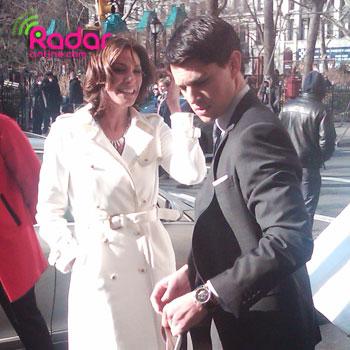 Reality TV's favorite (and only) royal has landed another TV acting gig, and only RadarOnline.com has the first on-set photos.
Real Housewives Of New York City star, Countess Luann de Lesseps is filming a guest star role in a new scripted show called Eden for USA Network playing - herself!
Luann is in high demand having only last month played her first scripted role as a high-brow art collector in NBC's popular crime drama series Law & Order: Special Victims Unit.
Article continues below advertisement
And this time around she feels right at home!
"I'm a socialite!" she said without revealing too much about the new show. "It's exciting! I'm making the move into scripted. I feel comfortable paying the socialite. I'm good at it!"
Meantime, the Countess dishes that the new season of her hit Bravo reality show will be a "rollercoaster."
Fans of the New York Housewives, which is returning for its fourth season on April 7, will see a "shift in friendships and new alliances," said Luann.
"I think it looks very exciting and there's a lot of drama going on. I think people are invested in our characters."
Last year it was Jill Zarin who butted heads with the leading ladies, and this year it looks like the new antagonist is Ramona Singer.
"Ramona lets a lot of things fall out of her mouth and I think she's going to have a harder time getting away with that," Luann confessed.
"I think some of us have issues with Ramona and some of us don't-everybody knows Ramona and she's always somewhere involved in the drama and I think you're going to see her bumping heads with some of us this season.
Article continues below advertisement
"I try and keep the peace which isn't always easy. But I'm not push-over, if I have something to say I say, I just say it differently.
Luann has her own set of personal adventures this season, including a studio visit with music legend Natalie Cole, a Sex And The City-style girls-only getaway to Morocco, and finding love with her hunky new beau Jacques Azoulay.
So after the much talked about public break-up with her husband of 16 years last season, has she thought about tying the knot again?