Exclusive
EXCLUSIVE: Oksana's Ex-Bodyguard Details 'Making Love To The Sexual Sorceress' In Tell-All Book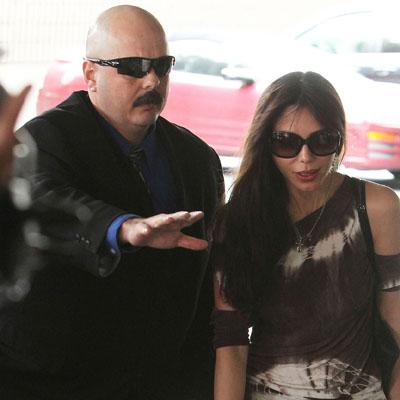 Oksana Grigorieva's rogue bodyguard who later became a Mel Gibson informant has used his tell-all book to detail how he allegedly made love to the Russian musician, who he breathlessly called 'The Sexual Sorceress'.
Kristian Herzog is touting the expose as "the true Hollywood story" of the Oscar-winner's romance with his ex-lover.
"Everyone went from hero to zero in less than 60 seconds," Herzog wrote, in a preview of the book he gave exclusively to RadarOnline.com.
Article continues below advertisement
He claimed Grigorieva, 41, "seduced him with her suffering" and "played my instrument like a cheap instrument, her soft warm inviting mouth and sorceress tongue controlled me."
EXCLUSIVE FIRST PHOTOS: The Injury To Oksana's Teeth
Herzog added: "The Bodyguard becomes the Lover, making love to Oksana. If lips were ships, her lips were the S.S. Titanic, dragging men down deep."
Grigorieva has emphatically denied the pair were ever intimate.
In a statement to RadarOnline.com, Grigorieva's spokesman Steve Jaffe said Herzog's book was full of "outrageous lies" and said the sexual references being made were "too absurd for words."
See more of Grigorieva's statement below.
In another chapter from Herzog's book, titled Storm Surge, he recounted how he became "the Chief Adviser and attending all the attorney meetings with Oksana about Gibson."
Article continues below advertisement
PHOTO: Mel Gibson's Lethal Stare - See The Mug Shot
Grigorieva has claimed Gibson, 55, punched her in the head on January 6, last year, at his multi-million dollar Malibu mansion, knocking out two veneers on her upper front teeth while she held their then-infant daughter Lucia.
The Lethal Weapon star pleaded no contest, with no admission of liability, to a misdemeanor battery on a spouse or cohabitant in Los Angeles Superior Court on March 11.
Once a passionate supporter of Grigorieva, Herzog has since swapped camps and will be deposed by Gibson's lawyers at some point during the pair's civil case.
"I thought I was protecting a real domestic violence victim, I was very wrong," he wrote.
Herzog said he "learned the truth about what really happened on Jan. 6," detailing what he said was "the fake assault... fake tapes (and) the real $15 million extortion of Mel Gibson."
MORE ON:
Oksana Grigorieva
Article continues below advertisement
Herzog final chapter is dedicated to the day he said he become "the number one witness in the biggest celebrity break up case of all time."
His also promised to detail juicy nuggets about other celebrities, including what he called 'The Fab 4' -- Britney Spears, Paris Hilton, Lindsay Lohan and Kim Kardashian - and 'The Fantastic 5' -- Jon Voight, Jack Nicholson, Jessica Alba, Senator John McCain and President Barack Obama.
Grigorieva's legal team told RadarOnline.com it had done its own investigation into Herzog and discovered he isn't who he says he is -- he would often insert himself into photos with stars at various public events, then suddenly claim he worked as their bodyguard.
"This man is ... an impostor," Jaffe told RadarOnline.com, in an exclusive statement. "He talks of being hired by celebrities like Jack Nicholson and Jon Voight and others. Totally false.
Article continues below advertisement
EXCLUSIVE FIRST PHOTOS: The Injury To Oksana's Teeth
"According to Jack Nicholson's manager, Jack has never heard of this guy. Jon Voight told me he never hired Herzog, he just allowed some photos to be taken after Herzog introduced himself as a Vietnam vet to Voight who is very supportive of all vets."
Grigorieva's rep added: "Herzog was never - not ever - hired by Oksana Grigorieva. That's a fact. He insinuated himself into her life in order to attempt to destroy her reputation which he continues to do with this 'book' filled with outrageous lies. He calls himself the "Star Witness" in the Gibson v. Grigorieva case but wouldn't show up for his deposition to testify under oath before Gibson's attorney.