Exclusive
EXCLUSIVE DOCUMENTS: New Film Starring Charlie Sheen 'Goddess' Bree Olson Facing Legal Trouble -- Read The Lawsuit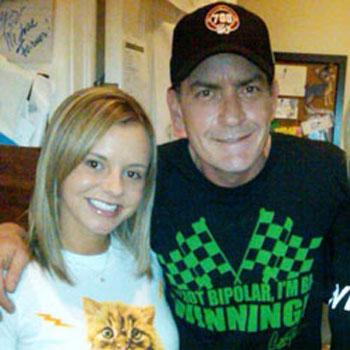 Here's one thing NOT 'winning'.
A film featuring Charlie Sheen's retired porn star girlfriend, Bree Olson, is facing a legal hurdle before it even begins to shoot, with a former producer suing another producer for $15,000.
EXCLUSIVE COURT DOCUMENTS: Read The Lawsuit
Citing breach of written or oral contract, payment for work performed and wrongful termination, Ryan McCarty filed a civil action complaint in New Jersey on Tuesday against Frank Vain and Mancation Movie LLC.
Article continues below advertisement
McCarty was fired because he supposedly partied too hard despite securing the film's lead stars, the movie exec told RadarOnline.com.
"I felt like I was used," McCarty said.
"Now I'm hurt and upset and just want what's owed to me."
In the complaint, McCarty claimed that he brought in celebrities such as former N'Sync member Joey Fatone and adult actresses Olson and Danica Dillan to be a part of the project.
"I was asked by Frank Vain back in the summer of 2010 to help bring in investors, models and actors/actresses for a movie... that would be filming in spring 2011," he wrote in court filing.
McCarty said that as compensation for his work, he would receive 20% of the low budget movie, or $30,000.
In the film, Mancation, Fatone's lead character, is about to get married, only to come home to find his fiancé, played by Olson, cheating on him with Dillan's character.
Article continues below advertisement
So he goes on vacation in Atlantic City to get away from all the drama in his life.
"I was asked to get a few adult film stars involved in the movie since I am friends with a few. I then called Danica Dillan who agreed to do the film and was very excited that I was involved," McCarty declared in court paperwork.
Through Dillan, he was able to secure Sheen's goddess.
"Not too long after... it appeared I was starting to be left out of the loop of what was going on and I would receive no text back or phone calls from Frank," McCarty wrote.
Speaking exclusively to RadarOnline.com, McCarty said it was an inaccurate perception that he was "partying" too much.
"They kicked me out and said 'you're in L.A. living the high life with VIP bottle service and spending a lot of money," he said.
"I don't see what that has to do with it because my job was to bring in investors and actors which is what I was doing."
He wrote in the court document, "If I did not help get them Joey Fatone and Bree Olson, they would have had a lot more trouble getting a lead actor to perform his role at that level and possably sic not had a movie at all.
Article continues below advertisement
Mancation is scheduled to start filming on March 30 and despite the behind-the-scenes drama, all the actors are still on board.
When contacted by RadarOnline.com, Mancation Movie LLC gave the following statement:
"Mr. McCarty's actual contributions were nominal at best and the claims in his statement are grossly exaggerated. He failed to disclose a previous federal conviction of check and mail fraud, which played a large factor in his dismissal. We wish him the best of luck in his future pursuits."