Exclusive
EXCLUSIVE: Michael Lohan's Ex Fiance Accuses Him Of Punching Her Girlfriend In The Face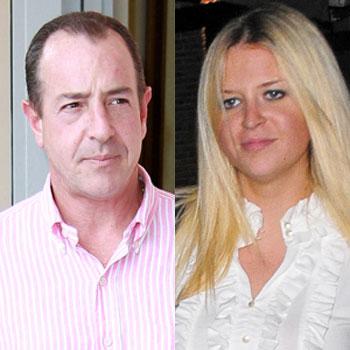 Kate Major is slamming her ex-fiancé, Michael Lohan – accusing him of weaving a web of lies, womanizing and shockingly, punching her female friend in the face, RadarOnline.com can exclusively report.
Michael is currently undergoing treatment, in front of the cameras, for "anger management issues" on the VH1 hit show Dr. Drew's Celebrity Rehab, and it seems that what Papa Lohan lacks in the star power department he is more than making up for with his drama quota.
Article continues below advertisement
Kate and Michael have had a volatile relationship, to say the least, but, Kate alleges things turned really nasty yesterday after she refused to partake in a therapy session with Lohan at the Pasadena Therapy Center.
"I agreed privately to go to Celebrity Rehab over the weekend for couples therapy even though we've been broken up - I thought it would be therapeutic for both of us," Kate told RadarOnline.com in an exclusive interview.
VIDEO & PHOTOS: 'Stressed-Out' Lindsay Lohan & Family Arrive In New York
"However, I found out all the lies that have been going on with myself, with his friends and with his family in the past few months.
"I still agreed to go to therapy last night though and that's when all hell broke loose. When I turned up at the center I found out Michael had lied to me about numerous things, including other women. I immediately called the counselors and said I would not be attending the therapy session and I left.
Article continues below advertisement
"Michael found out and fled the Pasadena Recovery Center on foot and found me and a friend that I was with. This is when I became very afraid of him and my life and other situations.
"One of the producers found out about Michael leaving rehab and chased after him in his car.
"In the meantime, Michael ripped a bracelet off my hand and then punched my girlfriend in the face –it was all caught on camera.
"I was very emotional, and I was very, very scared. The producer tried to get me into his car, along with Michael but I was very fearful, I would not be in the same car as him because of past physical abuse."
A source shares that Kate's decision not to partake in therapy was made after she was shown a photograph of Michael and Real Housewife of New Jersey star, Kim Granatell.
The photograph, which was released by celebritymagnet.com's Tom Muro shows Lohan passionately kissing Granatell and was more than Kate could stand.
Article continues below advertisement
Meanwhile, Kate told RadarOnline.com that upon arriving back at the recovery center, after the alleged altercation, an unapologetic Lohan turned threatening towards her once again.
"We arrive at the rehab and he starts tormenting me and he says that if I ever brought up his drug and alcohol problems he would say that a family member abused me just to get to me," Kate claimed.
"I have been living out of fear for a year and a half. This man obviously isn't in there for anger management, he is in there for a lot more issues and I refuse to put up with this anymore.
"I have been there with Michael though thick and thin, through heart attacks, he is the one who accuses me of lying and I am not lying.
"This is the last public statement that I'm going to make for now," Kate vowed. "And I wish that he gets the help that he needs and I feel sorry that Dina was stuck with him for 18 years and my heart goes out to his children."
RELATED STORIES:
EXCLUSIVE: Lindsay Lohan Refused To Visit Dad on 'Family Day' at Celebrity Rehab