Exclusive
EXCLUSIVE: Mel Gibson Audio Rants Are Authentic -- Expert's Declaration Entered Into Evidence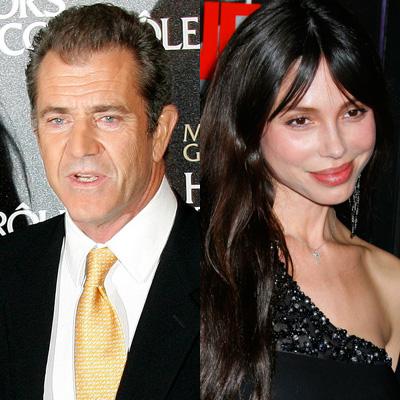 A forensic audio expert says the infamous Mel Gibson audio recording are authentic and were not tampered with, and his declaration has been submitted as evidence in the court battle between Mel and Oksana Grigorieva, RadarOnline.com has learned exclusively.
Kent Gibson, a certified forensic audio expert who has previously worked for the FBI and L.A. County Sheriff department, wrote: "In my professional opinion as a forensic audio examiner, I conclude that the recordings have not been modified and can be considered authentic."
Article continues below advertisement
RadarOnline.com has obtained Kent's declaration, which was filed in Los Angeles Superior Court on December 9. Kent is an expert hired by Grigorieva.
He declared he was able to substantiate it was Gibson, 55, blowing up Grigorieva's phone by comparing the voice to a known sample of the star, from an interview with British talk-show host Michael Parkinson.
"The voice matches, indicating that this is the voice of Mr. Mel Gibson," Kent wrote, under penalty of perjury.
"There are nine recordings made by Ms. Grigorieva on her iPhone," he wrote, adding, "additionally there are nine voice mail recordings record on Ms. Grigorieva's answering machine."
Kent testified he visited Grigorieva's Sherman Oaks, California, home on November 30 and digitally copied the 18 recordings from her computer where she had stored them.
"The nine iPhone recordings are consistent with Ms. Grigorieva's claim that they were recorded using the 'Voice Memos' app on the iPhone where her voice is recorded through the air and Mr. Gibson's voice was heard through the air over a speakerphone," Kent wrote.
Article continues below advertisement
"This explains why Ms. Grigorieva's voice is full frequency and Mr. Gibson' voice sounds raspy, narrow frequency and somewhat distorted."
He also wrote: "The nine recordings appear to be recorded through the air listening to the playback from the speaker on an answering machine."
Kent Gibson was hired by Grigorieva to substantiate the recordings, which are key evidence against Mel, who is facing a criminal domestic violence charge. At one point on the recordings after Oksana accuses Mel of hitting her, he replies that she "f**king deserved it."
RadarOnline.com exclusively released the tapes that shook the entertainment world last year and revealed Mel using vile racist langauge, while threatening Oksana and raging out of control.
Kent Gibson's declaration is a huge boost to Grigorieva's case as it counters any suggestion that the secretly recorded tapes were tampered with and edited. If the tapes were tampered with they would not be admissable in court.
Article continues below advertisement
The expert's finding will bolster prosectors if they attempt to charge and convict the Lethal Weapon star for allegedly punching Grigorieva in the head on January 6, last year, at his multi-million dollar Malibu mansion.
As RadarOnline.com previously reported, Gibson is expected to face a domestic violence charge very soon.
Grigorieva has claimed the force of the blow from Mel knocked out two veneers on her upper front teeth while she held their then-infant daughter, Lucia.
At one point in the recordings, Mel tells Grigorieva, 41, she looked like a "b*tch in heat" who once dressed so provocatively that she could get "raped by a pack of ni**ers."
In another recording, Gibson is heard admitting he hit Grigorieva when asked "what kind of a man" would hit a woman - holding a baby - "twice in the face."
"You f**king deserved it," he told her.
Kent told court he was contacted by Grigorieva's lawyer on September 28 to examine the tapes.
Article continues below advertisement
A charge of domestic violence/corporal injury involving a former cohabitant is looming for the 55-year-old Oscar-winning actor/director, law enforcement sources have told RadarOnline.com.
It can be prosecuted as a felony or misdemeanor.
If convicted of a felony, Gibson could face up to four years in state prison; if convicted of a misdemeanor, which is more likely, he could face up to one year in county jail.