Exclusive
EXCLUSIVE: Matthew Modine In Audience To Watch Randy Quaid's 'Star Whackers' Performance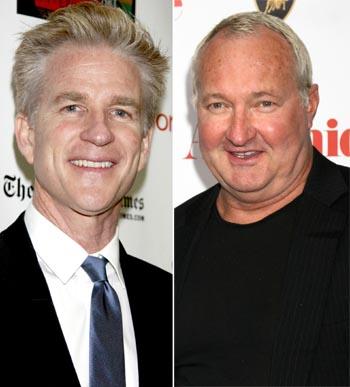 Hollywood may have long turned their backs on Randy Quaid but that did not stop actor Matthew Modine from going to watch the fallen star perform Star Whackers in Vancouver, RadarOnline.com can reveal.
The Full Metal Jacket and Memphis Belle actor was in the crowd of around 500 at The Commodore Ballroom on Friday night to watch Quaid let loose – although their was no sign of Randy's wife Evi at the popular venue.
Article continues below advertisement
And when all the bands came on stage to do an encore Randy mysteriously bolted from the club and was nowhere to be seen.
Vancouver based music critic Robert Collins told RadarOnline.com: "I was standing right next to Modine and he seemed to be enjoying Quaid perform but there was no sign of Evi at the gig.
"It was a bit of a strange experience to say the least because word just got out around Vancouver that Quaid would be a special guest at the venue the day before.
"He introduced himself as Randy Quaid and spoke briefly about the effect the Star Whackers had on them.
"Randy actually performed two songs, the first was Will We Be Together Then? and that was not bad he has a decent voice.
"Then he started singing Star Wackers and to tell you the truth it was pretty bad – he had a crazed look in his face and was yelling the lyrics.
"At the end he just collapsed on stage all sweaty and you could tell it was an act – the audience was not cruel and seemed to appreciate his efforts when he finished though.
Article continues below advertisement
"Although his band members appeared on stage to perform an encore with the other bands Quaid was nowhere to be seen and he left the venue pretty quickly apparently – Matthew Modine did not hang around for a long time either."
RadarOnline.com was first to report that Randy and wife Evi faced criminal charges last year for running out on a hotel bill. Their odyssey has grown stranger and stranger and the couple is now in Canada seeking asylum.
"If they have the need for you to die, that will be a cinch, easy as pie," Quaid sings.
As RadarOnline.com previously reported, Randy and Evi brought the Star Whackers phrase into prominence in an interview with Good Morning America last November. They claimed that the Star Whackers were plotting against them, all working together to "take the money" they've earned in their careers. They also blamed Star Whackers for mysterious deaths of various celebrities.
Article continues below advertisement