VIDEO: Watch Randy Quaid Sing About 'Star Whackers'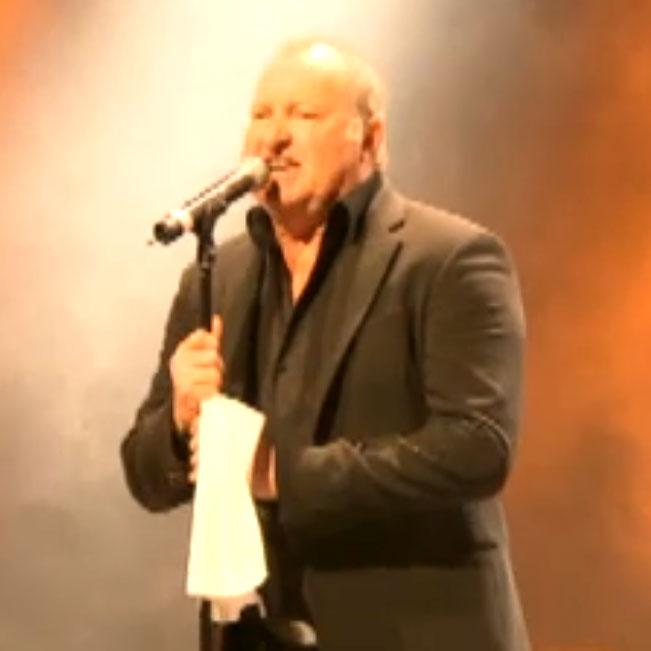 Randy Quaid has put his conspiracy theory about Star Whackers to music. The controversial star, who believes a group of individuals is killing celebrities, now sings about the mysterious figures he claims have aligned in the shadows of Tinseltown: the Star Whackers.
The Independence Day star sang about Star Whackers with a rough, rockin' six-minute set at The Commodore Ballroom in Vancouver, British Columbia on March 18, with a backup band aptly nicknamed "The Fugitives" and you can watch the performance here.
Article continues below advertisement
RadarOnline.com was first to report that Randy and wife Evi faced criminal charges last year for running out on a hotel bill. Their odyssey has grown stranger and stranger and the couple is in Canada seeking asylum.
"If they have the need for you to die, that will be a cinch, easy as pie," Quaid sings.
"Those sleazy Star Whackers... Whackers!" Quaid, dressed in all black, growled from the stage. By the time the high-energy performance was over, Randy was laying on his back.
"Memorable only for its brevity and bizarreness, the performance will certainly be one to tell the kids about," CTV reporter Robert Collins wrote. "When they've been particularly badly behaved."
As RadarOnline.com previously reported, Randy and Evi brought the Star Whackers phrase into prominence in an interview with Good Morning America last November. They claimed that the Star Whackers were plotting against them, all working together to "take the money" they've earned in their careers. They also blamed Star Whackers for mysterious deaths of various celebrities.
Article continues below advertisement
"We are refugees -- I mean that's essentially what it is -- Hollywood refugees, seeking to be left alone by the criminals," Evi said. "I genuinely feel like these people are trying to kill us."
Randy, who starred in Major League 2 alongside Charlie Sheen, said the Star Whackers "follow us, they tag our cell phone they hack their computer," adding that "it is very possible that Heath Ledger could have been murdered, and David Carradine, too."
The couple said other celebs who've been targeted by the Star Whackers include Lindsay Lohan, Britney Spears and Mel Gibson.
Randy added his brother Dennis -- who famously sang himself, playing Jerry Lee Lewis in 1989's Great Balls Of Fire -- has been "victimized by the same people" but "he doesn't respond" to Randy's warnings.
RELATED STORIES:
EXCLUSIVE: Randy & Evi Quaid Fail To Appear At Santa Barbara Court Hearing