Exclusive
EXCLUSIVE: Lindsay Lohan's Lawyer Believes Owner Selling Surveillance Video Will Help Her Get Better Plea Deal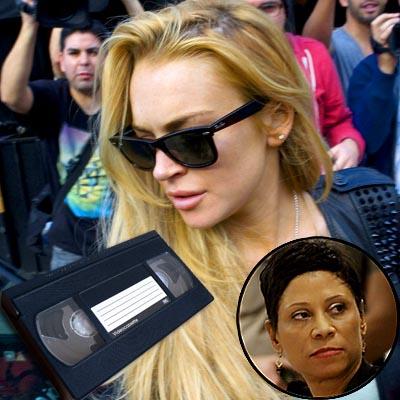 Lindsay Lohan's lawyer Shawn Holley still believes she now has a better chance for getting Lindsay an even shorter sentence in jail for her alleged probation violation -- and perhaps even having her felony theft charge reduced to a misdemeanor -- because the owner of the jewelry store sold the surveillance video to a media outlet, RadarOnline.com has exclusively learned.
"The owners of the store's credibility is on the line, and going to be scrutinized. The price of the necklace is going to be revisited again. For Lindsay to be charged with a felony, the necklace had to be priced at over $900. Holley has an excellent argument that the owners could have inflated the price of the necklace to the authorities. Holley will likely ask that in light of these new developments that Lindsay be sentenced to jail for no more than one to thirty days. If she got sentenced to thirty days, she would serve about seven days," a source told us.
Article continues below advertisement
PHOTO: Lindsay Rocks A White Bikini
As RadarOnline.com has previously reported, the Mean Girls star, 24, is accused of stealing a $2,500 necklace in January from a jewerly store in Venice Beach, California where the actress now lives since her release from the Betty Ford center.
Holley will also be introducing proof that the lawyer for Kamofie & Co. was trying to make sure that her copy of the surveillance video wasn't released to the public. "Holley has a plethora of evidence proving that the lawyer for the owners of Kamofie & Co. were in contact with her last week, trying to obtain her copy of the surveillance video. The lawyer asked Holley not to show the video to her own client! How preposterous and shady is that?
Holley will be formally entering that information into evidence and for Judge Keith Schwartz to take under advisement when making his final decision," the insider added.
One Lohan insider tells us: "The fact is that Lindsay is doing so well right now. She is truly committed to her sobriety. Look at her, she has truly never looked better. She has maintained her innocence this entire time."
Lohan is scheduled to appear in front of Judge Schwartz on Thursday, March 10th, 2011, in connection with the grand felony theft charge.