EXCLUSIVE INTERVIEW: 'Real Housewife' Sonja Morgan To Get Down And Dirty With The Beekman Boys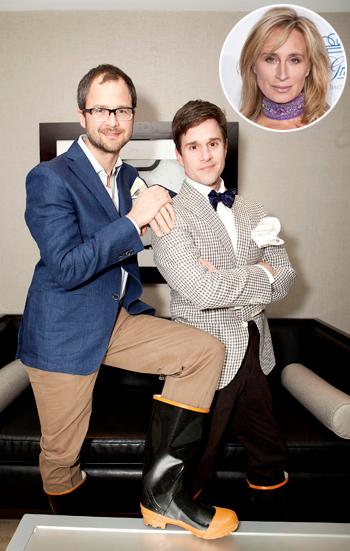 Real Housewives of New York star Sonja Morgan is famous for the line: "I have a taste for luxury, and luxury has a taste for me" - so the last thing that comes to mind when you think of the socialite is getting down at the farm!
But RadarOnline.com has exclusively learned that the reality star is a neighbor of The Fabulous Beekman Boys, and has requested to visit and even rake muck at their farm in Upstate New York.
Article continues below advertisement
Sneak Peak Of The Fabulous Beekman Boys Second Season
"We met Sonja at an event at Henri Bendels and she told us she was raised on a farm," best selling author and Beekman Boy Josh Kilmer-Purcell told RadarOnline.com.
"She wants to come to the farm and visit, and even said she wants to muck the barn," added Purcell's partner in crime on the farm Dr. Brent Ridge.
Purcell and Ridge are not your average couple. They transplanted themselves from Manhattan to Beekman Farm in upstate New York, where they are raising more than eighty goats, two pigs, a dozen chickens and a narcissistic llama in their own reality show which begins it's second season on Discovery's Planet Green TV on Tuesday.
"Sonja is going to be one of our special guests this season and the fact that she want to muck the barn adds a different dimension to her character, she is really sexy and cool."
The farm has had several celebrity guests visit already, such as Rosie O'Donnell and Martha Stewart and plans to have even more, in fact, as RadarOnline.com previously reported 30 Rock star Alec Baldwin is planning a trip with his daughter, Ireland.
Article continues below advertisement
"Two years ago, we started a Harvest Festival and 500 hundred people came and then last year more than 5,000 people came including Rosie O'Donnell!" Ridge told RadarOnline.com.
"We have met such amazing people in our small town and we are thrilled to be part of making a difference for the locals. One woman earned more money at our festival then she had earned all year, and that feels great," he added.
The pair are excited to kick off their second season and can't wait for Sonja's visit so they can make her a delicious meal from their upcoming cookbook that will be out this fall.
"She has made us some amazing meals at her place in Manhattan, so after a hard day on the farm we are planning to repay her with one of our yummy recipes," Ridge said.
In Beekman Boys style, the couple took two goats to the top of the Empire State Building Tuesday morning to celebrate the start of the second season and RadarOnline.com obtained some exclusive photos. link to photos