Exclusive
EXCLUSIVE: Alec Baldwin & Daughter Ireland Planning Trip To Beekman's Farm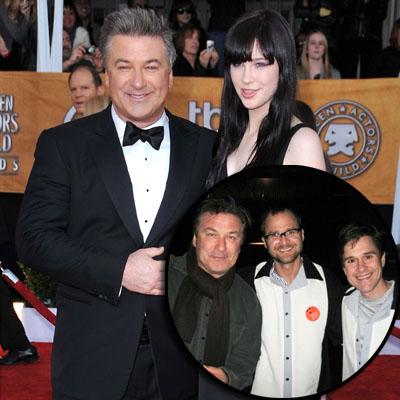 Alec Baldwin and his daughter Ireland seem to be firmly back on track after a much publicized rocky stage in their relationship.
So much so that the 30 Rock star is planning a special father/daughter bonding trip, to a very special destination.
RadarOnline.com has exclusively learned that Alec is in the process of arranging a get away to The Fabulous Beekman Boys farm in upstate New York.
The multiple Emmy Award winning actor was recently seen mingling with the reality TV farmers, Josh Kilmer-Purcell and Brent Ridge while attending a fundraiser for Second Stage Theater at Lucky Strike on 42nd Street in New York.
Article continues below advertisement
Alec and Ireland's relationship woes went public after an angry voicemail that the actor left his then 11-year-old daughter was leaked to the press.
He later apologized, blaming the pressure of the bitter custody battle he and his ex-wife, Kim Basinger have been engaged in since their divorce in 2002.
"I'm sorry, as everyone who knows me is aware, for losing my temper with my child," he wrote on his website. "I have been driven to the edge by parental alienation for many years now. You have to go through this to understand. (Although I hope you never do.) I am sorry for what happened."
Article continues below advertisement
But then, just last year, the 52-year-old actor was embarrassed once again after Ireland called police and told them she was worried about her father.
Baldwin was subsequently rushed to the hospital by paramedics. His rep later reported the incident was a "misunderstanding."
However, thankfully it seems that it's now all water under the bridge, with Baldwin speaking fondly of his daughter and sharing that he's excited to spend some alone time with her.
The Fabulous Beekman Boys was just nominated for Outstanding Reality Program by GLAAD and Josh and Brent were nominated as the Most Addictive Reality Stars by the New Now Next Awards.
In addition, the boys just shared the stage on Saturday with Julianne Moore and Mark Ruffalo at a glitzy, celeb filled Human Rights Campaign event in NYC.
Looks like the Baldwins are in for some fun!
RELATED STORIES:
Gary Shirley And Amber Potwood Allowed Contact Again - But Not In Front Of Daughter