EXCLUSIVE INTERVIEW: First Ever Drag Queen 'Housewife' Insists Miami Cast 'Not As Trashy As Those New Jersey Girls'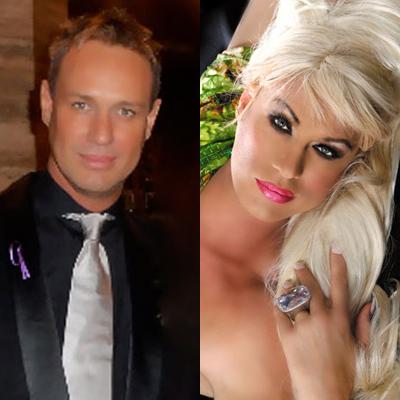 James Davis -- a.k.a. Elaine Lancaster -- will soon be known as the first drag queen co-star on The Real Housewives of Miami, and don't expect his fellow leading ladies to hold anything back, he dishes to RadarOnline.com exclusively.
"There's no way to avoid it all... There's going to be more than its fair share of catfights," Davis reveals to RadarOnline.com. "I think it's going to be a lot more drama than they anticipated. There's always that jockeying to be the alpha female."
Article continues below advertisement
But don't compare them to those other Housewives on the east coast, Davis insists.
"I don't think they're going to be as trashy as those New Jersey girls," he adds.
Davis, who's an actor and has created his own renown drag queen alter-ego sensation, Elaine Lancaster, was persuaded to be on the hit reality show by real-life gal pal and one of the newest six stars -- philanthropist Lea Black -- who's married to successful criminal defense attorney Roy Black.
Just last week, Bravo announced its newest cast including Black, Larsa Pippen, Marysol Patton, Alexia Echevarria, Cristina Rice and Adriana DeMoura-Sidi.
But Davis is first to point out his best friend's legitimate Housewife pedigree.
"What separates Lea from the rest of the cast members is that Lea came to her marriage quite accomplished and extremely successful with her own skincare and cosmetic lines and a history of millions of dollars on QVC," he said. "In all actuality, she had more money than Roy when she married him! A lot of these other women, I will dare say, came to the marriage with a little nothing more than sex appeal.
Article continues below advertisement
"So they are indeed basking in the spotlight of their husbands and Lea is the opposite of that."
Davis has his own opinion on the vast majority of the ladies on the various show franchises -- "I sometimes see people who think they're all that and you think 'what have you done to get to where you are?...it is what it is."
Davis admitted that he's actually never watched an episode of the Real Housewives franchise, but has caught a few glimpses of the Beverly Hills cast online.
But James still knows what to look out for. He's already pegged who's going to fit right in to the preconceived characterizations of the show.
"Cristina is going to be the villain from what I've heard," he said. "No one seems to like her. She's not the friendliest of the group."
"Lea has the tendency to set the pace and the agenda.
"And Adriana is without a doubt the sex kitten on the show. She is quite something. She's one hot toddy, you don't mess with her!" he laughs.
Article continues below advertisement