Exclusive
Gary Shirley And Amber Portwood Allowed Contact Again - But Not In Front Of Daughter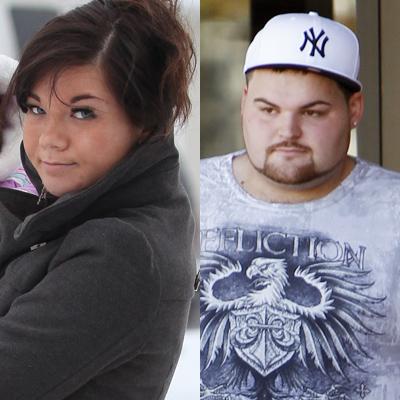 Gary Shirley and Amber Portwood can have contact once again – but not in the presence of their daughter Leah, RadarOnline.com has learned.
The two Teen Mom reality stars appeared before Judge David Happe at Madison County Court this morning in a hearing which was set to modify or rescind the order which was currently in place.
At the brief hearing Judge Happe told the love-hate pair that he would modify the order.
Article continues below advertisement
A court official told RadarOnline.com: "The order was modified so that they can now have contact with one another – but they cannot be together with their child unless it is during an exchange during visitation.
"The only exception is if there is a medical situation where both parents need to be present to assist their child."
RadarOnline.com previously revealed that Portwood had recently told police baby daddy Gary Shirley harassed her with 24 phone calls in a five hour span during the middle of the night, according to the Anderson, Indiana police report obtained by RadarOnline.com.
The calls started shortly before midnight on February 3 and continued until 5:21 a.m. on Feb. 4.
The MTV star told cops that Gary was saying "sexually vulgar things to her." Amber and Gary have a court-imposed no contact order.
Police wrote in their report: "While speaking with Ms. Portwood, she advised that she had been receiving phone calls beginning at approximately 11:56 PM last night. The last most recent was at 5:21 AM, right before she called the police.
Article continues below advertisement
"She stated that there were 24 phone calls total and she believed that they were from her ex-boyfriend, Gary Shirley. She advised that she knew that it was Gary, due to the fact that she recognized his voice but the phone number was coming in as blocked and private, so it wasn't showing on her cell phone.
"She also advised that she could hear female subjects in the background threatening to kick her ass and telling Gary to say other things to her. She said she believed that one of those female subjects was an Ashley Williamson whom she has had trouble with in the past. Ashley has continually harassed her as well.
"She advised that Gary was saying repeatedly sexually vulgar things to her, which she didn't want to repeat due to the fact she had her young daughter in the room. She is afraid that it was too vulgar for her to hear so she did not repeat what was said.
"She stated that she just wanted them to stop, due to the fact that there is supposed to be a protective order in place. But checking on the system, a PO did not show up."