EXCLUSIVE INTERVIEW: Kathy Hilton: Charlie And Brooke Need To Work Things Out For The Kids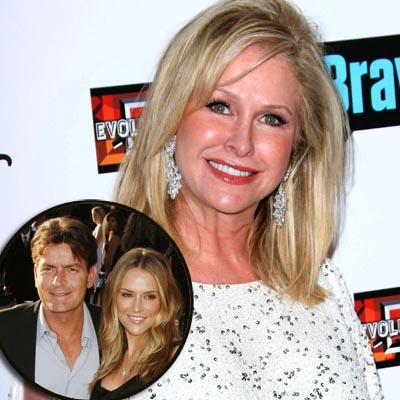 Kathy Hilton is a close friend to both Charlie Sheen and Brooke Mueller.
With news that the couple has cancelled their scheduled court appearance today, a supportive Kathy is speaking out on the situation for the first time, in an exclusive interview with RadarOnline.com.
The glamorous matriarch, who will be starring in her daughter Paris' upcoming reality show with Brooke, told RadarOnline.com that she hopes Charlie and Brooke can settle their differences for the sake of their twin boys, Bob and Max, and that they can one day be friends.
Article continues below advertisement
"I was happy to hear that Brooke and Charlie cancelled court today," Kathy told RadarOnline.com. "The most important thing that they do together is work things out amicably and co-parent their children and in the end hopefully remain friends.
"I just know that Brooke does not malign Charlie, and from what I hear he doesn't talk unkindly about her."
Kathy, who has four children herself, daughters Paris and Nicky and sons Barron and Conrad, obviously knows a thing or two about successful parenting, as well as making a marriage work – Kathy has been happily married to husband Rick Hilton since 1979.
Kathy believes that Charlie and Brooke are working toward reaching some common ground, for the sake of their children, as they both love their little boys, who turn two in less than one week.
"I think down the road they can get along for the children's sake and co-parent amicably because at the end of the day it's the children that suffer the most and can really be scarred by this.
"I've seen first hand, parents that have had to go to court and not remain friends and the children are scarred for life.
Article continues below advertisement