VIDEO: Charlie Sheen's Premiere Webcast Viewed By 100,000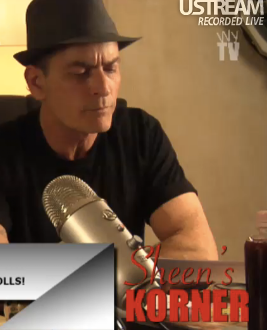 Charlie Sheen went live on UStream Saturday night, in an effort to reach his fans directly, without the assistance of sitcom writers or journalists. His 50-minute long webcast, titled Sheen's Korner bore more than a passing resemblance to an old-fashioned public access cable show, and maybe that was the point.
The troubled Two and a Half Men star showed off his new tattoo -- Winning -- inked onto the inside of his left wrist, and told his five kids, "Daddy loves you."
Article continues below advertisement
Sheen's posse in his at-home studio, laughed at all his jokes of course.
The actor's Twitter followers were mixed in their reviews of the webcast. There seemed to be as many who hated it as those who loved it.
Sheen called it all a "maiden madcap experiment." He hasn't yet said if there will be a follow-up experiment.
Watch the entire episode of Sheen's Korner here:
RELATED STORIES:
Charlie Sheen To Chuck Lorre: 'You're A Stupid, Stupid Little Man... A P*ssy Punk'