Charlie Sheen Drops 'F-Bomb' (Repeatedly) In Bizarre New Webcast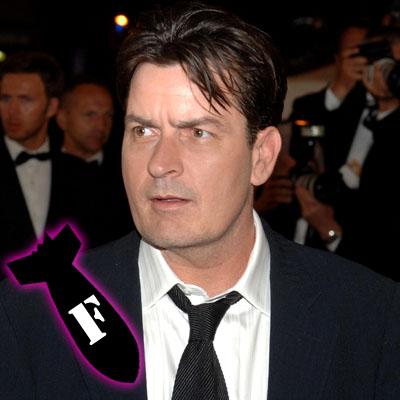 Charlie Sheen dropped the 'F-Bomb' more than a dozen times during the second edition of his self-produced Web series Sheen's Korner, via the interactive broadcasting Web site, USTREAM.
In Sunday's edition, the Two and a Half Men star launched into a bizarre, profanity-laced tirade that is difficult to follow, let alone understand.
The episode unfolds with Charlie having an intense phone conversation with associate (and Tweet master) Bob Maron about how to improve the Web series.
Article continues below advertisement
"What the f**k is this?" Sheen said, before launching into a string of rapid-fire ramblings -- including one seemingly targeted at the King Of All Media, Howard Stern.
"What the f**k is this? Why? Howard Stern does that, its transparent, its the work of trolls... cause he was so f**king ugly his whole life and now he's got power because he's smart," Sheen said.
Sheen tells Maron: "Know that I'm better solo. Don't think, just know -- I invented solo. There was, like, two guys in a plane and one jumped out and said, 'It's Charlie Sheen.' It's called solo."
In the expletive-laden rant, Sheen launched into a tirade against his malfunctioning phone, as he said he was "foiled by a piece of plastic designed by trolls covered in lights and buttons," and claims "pain is a f**king myth" as he holds a lighter toward his face, saying he needs "anti-pain pills."
Sheen called himself as a "truth-seeker," as he discussed with Maron how to improve his Web series.
At one point, Charlie said, "I'm gonna write my sermons, and I'm gonna deliver them like truth torpedoes."
Article continues below advertisement
"You're either in my corner, or you're with the trolls!"
After a series of tepid reviews poured in for his Saturday broadcast, Sheen summed up the webcast as "a shameful train wreck filled with blind, cuddly puppies."
"Beggers beg -- winners win," Sheen said.
Sheen also said, "I want to deliver some s**t, I want to deliver it in the epicenter of how I usually deliver things, which is perfect and truthful and radical and in your face... I don't want to be like Conan or Jay or boring -- I'm just not like that, I'll never be like that.
"Go f**k yourself is the perfect everything, as we're in a tsunami," he said, before going on another rant against the cliche, "It is what it is."
"Be about something that matters -- the only way you win is inside the truth... this is my message to you: Take it or die violently."
Sheen also had bad news, as his pug Betty died at 11-years-old.
"You will be missed, thanks for everything Betty, rock the next dimension," Sheen said. "That's how it goes: People die, dogs die, what are you gonna do?"