Exclusive
EXCLUSIVE: Compromise Could Put Charlie Sheen Back On TV: Inside The Two And A Half Men Negotiations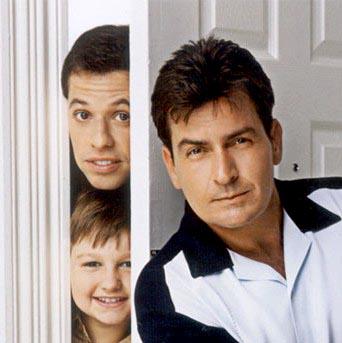 CBS and Warner Bros. Television could install a new head writer/producer to oversee Two and a Half Men under a secret compromise deal being suggested to return Charlie Sheen to the hit sitcom, RadarOnline.com has exclusively learned.
"Charlie is a big fan of Don Reo, a producer and writer who joined 'Men' last year and currently holds the title of consulting producer," said a production source with knowledge of the plan.
Article continues below advertisement
"It's been suggested that a compromise deal could be struck: Reo could take on the main role and essentially become a point person for Charlie, ensuring he avoids the regular contact he once had with Chuck Lorre."
Sheen and Lorre's clash is the backdrop for the show canceling its final eight episodes this season. The actor has spoken out often and strongly against the show's executive producer and co-creator and Lorre has made his feelings about Sheen clearly known through the "vanity cards" at the end of episdoes.
The source suggested the proposed deal would install Reo, a highly-talented television veteran, into the supervising chair as a kind-of peacemaker in a move that would allow Lorre to take a back seat from 'Men' and focus on his two other money-making machines, CBS sitcoms The Big Bang Theory and Mike & Molly.
Lorre could retain top billing with his executive producer and creator credits, the source added. Said the insider: "Chuck wouldn't lose out, financially, at all."
Article continues below advertisement
It is not yet known if Lorre is open to the deal.
Sheen hinted to RadarOnline.com in an exclusive video interview that if 'Men' was to return to the airwaves for a ninth season, there would have to be some personnel changes.

 "It's going to be brilliant," said Sheen, adding: "Because we're going to do it differently. Watch me."

 When asked if Lorre would be involved, he said: "I don't know."

 In a radio interview last Friday, the 45-year-old expressed more optimism that he's going to return to show and said it felt like "all parties" were coming to a working understanding to get back to making TV's top-rated show.

 "Absolutely the gig's coming back, I have absolute faith in that," Sheen said, noting again that he sees "a few adjustments" in the future.
Before that, Sheen's lawyer Marty Singer fired off a blistering five-page letter to CBS and Warner. Bros. in which he threatened litigation, asserting that Sheen's contract was violated.

 Singer, one of LA's top lawyers, threatened the companies with a lawsuit if Sheen isn't paid the full amount for the rest of this season and said Sheen is ready to work next season too.
Reo wrote two episodes of 'Men' last season; 'Skunk, Dog, Crap and Ketchup' and 'That Darn Priest.' He wrote three episodes in season seven.

 He is also the brains behind Fox's Brothers, starring former NFL star Michael Strahan.

 He previously created the TV shows Blossom and The John Larroquette Show for NBC and My Wife and Kids for ABC and wrote for Everybody Hates Chris, M*A*S*H, Rhoda and The Golden Girls.