EXCLUSIVE INTERVIEW: Brooke Mueller's Stepfather Vows Her Children 'Are Well Taken Care Of'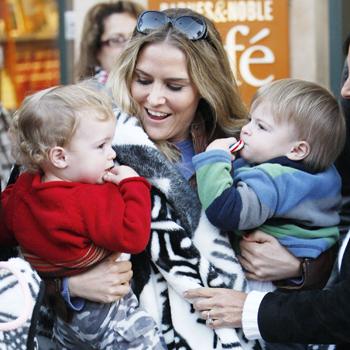 With their parents waging a war of words and accusations of drug use, verbal abuse and alleged physical threats flying back and forth, many have wondered about the well-being of Brooke Mueller and Charlie Sheen's two-year-old twin sons, Bob and Max.
In an exclusive interview with RadarOnline.com, Mueller's stepfather Jon Fiore sets the record straight and vows: "The kids are healthy and happy and very well taken care of."
Article continues below advertisement
It's been a tough couple of months, as the boys were removed from their father's care by court order after Mueller was granted a temporary restraining order against Sheen, ordering him to stay at least 100 yards away from her and her sons.
Sheen has undergone a media melt-down, been fired by Warner Bros. from his $2 million an episode gig on Two and a Half Men and become embroiled in a $100 million dollars lawsuit against Warner Bros. TV, CBS and the show's creators.
Meanwhile, Brooke has admitted to relapsing on drugs, is now undergoing day treatment for her addictions and is continuing her tough battle to maintain her sobriety.
But her step-dad insists that Brooke is doing really well and that both he and her mother are doing all they can to help her, in any way, even moving across country to be near to their 32-year-old daughter and their grandsons.
"Brooke has been doing well with them and we love to help out," Fiore says.
Article continues below advertisement
This week, Mueller has even felt strong enough to handle the twins without the help of her parents, as they escaped the Hollywood drama for a long needed vacation.
"We've taken a trip for a little R&R, and although we've only been gone for only few days we already miss the little guys," Fiore says. "We'll be back in a week and can't wait to help out again."
RELATED STORIES:
VIDEO: Charlie Sheen Is 'The Biggest Loser in the World' Says Andrew Dice Clay