Exclusive
EXCLUSIVE: Dr. Phil Dog Bite Victim Slams TV Star As Court Battle Heats Up: 'We Hope He Sleeps Well'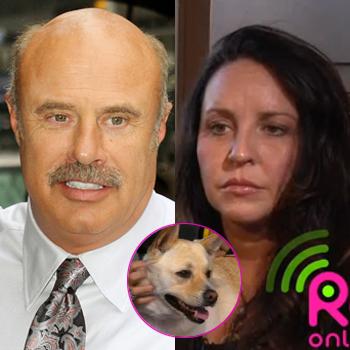 The two sides involved in the Dr. Phil McGraw dog bite lawsuit are embroiled in a war of words before the issue has even been heard in a court of law.
And if the talk show king has his way, the issue won't go before a judge or jury, which has the plaintiff's legal team heated.
"Dr. Phil's response to the complaint exhibits his arrogance which is consistent with the unconscionable manner in which he's treated Janet Harris since the day she as bitten by Maggie," said personal injury lawyer, Larry Nagelberg, a founding partner of Nagelberg Bernard Law Group representing Harris, told RadarOnline.com.
Article continues below advertisement
In the court documents, obtained exclusively by RadarOnline.com, Dr. Phil's attorneys are demanding that the lawsuit be dismissed because it's in violation of an agreement to arbitrate any disputes.
"His motion is an attempt to deny her the right to a jury trial by using a declaration that has nothing whatsoever to do with the case at issue," Nagelberg said.
"We hope he sleeps well."
Harris was frequently featured on Dr. Phil's talk show as a skin care specialist and became a close confidant of the McGraws. Her lawsuit contends that she traveled with the McGraws for business and pleasure, spent holidays with them and more.
But all of that changed when Harris visited the McGraw's Beverly Hills home in late 2009 and Maggie, their Korean Jindo, allegedly attacked Harris "without provocation and warning," according to the complaint filed February 2.
Harris states in her filing that the dog bit her right hand and arm so hard she bled.
According to the complaint, Robin McGraw offered to take Harris to the hospital, but Dr. Phil instructed his wife not to because it would create "unnecessary" bad press and he wanted to handle it privately.
Article continues below advertisement
In lieu of seeking medical treatment at a hospital, Harris was prescribed antibiotics by a physician through a nurse friend, but the next day her arm was swollen, the documents state.
The lawsuit claims that after getting a Tetanus shot, Harris was forced to take IV antibiotics and had to see an infectious disease specialist who diagnosed her with pastuerella multocida -- a disease caused by an animal bite.