Dr. Phil Selling Beverly Hills Mega-Mansion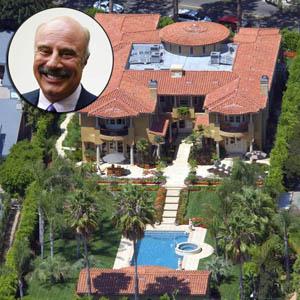 Television shrink Dr Phil McGraw and his wife Robin McGraw have posted the 'for sale' sign outside their $16.5 million Beverly Hills mansion, RadarOnline.com can reveal.
There have been whispers that the couple has been privately trying to sell the 8 bed, 7 baths, 11,036 sq ft Mediterranean style villa for the past two years, but now it is officially on the market.
The tough talking Texan's home is a favorite with celebrity tour buses, and his nearby neighbors in the star-packed enclave include Madonna, Simon Cowell and Tom Cruise.
Article continues below advertisement
Dr Phil - who recently had his famous moustache shaved off by Oprah Winfrey – bought the property for $7.5 million in cash back in 2002.
And it boasts some fabulous features including: a formal living room, dining room, library, family room gourmet kitchen, breakfast room, media room, den, library, parking for five cars, swimming pool and a two bedroom guest property.
There are also private offices, a screening room and a billiards room for Dr. Phil to entertain his celebrity pals.
Exclusive Interview: Evander Holyfied Confirms He KO'd Dr. Phil's Appearance After Domestic Violence Incident
The exclusive area has 24/7 private security so that no intruders get anywhere near the multi-millionaires who reside there.
Dr Phil's immediate neighbors include Amazon billionaire Jeff Bezos and entertainment icon Mickey Rooney who lives in Shirley Temple's old Sunset Boulevard mansion.
And right behind his property sits the Le Palais du Couchant – the recently completed 3-story 36,000 sq ft French Paladian home that was built by Fredrick C. Wehba for a whopping $68.5 million.
It's not known where Dr Phil and his family will move to but they are expected to remain in the Los Angeles area because The Dr Phil Show is filmed in Hollywood.