EXCLUSIVE DOCUMENTS: Bauer Publishing Suing David Beckham For Over $250k For Attorney's Fees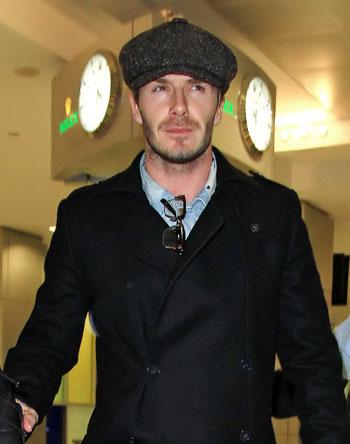 David Beckham is being sued by Bauer Publishing over their legal costs stemming from a defamation lawsuit that the Los Angeles Galaxy star filed against In Touch Weekly claiming he had sex with a hooker.
On February 14, Judge Manuel Real dismissed Beckham's lawsuit against the publisher of the magazine, and now Bauer is seeking to recoup costs associated with the legal battle and RadarOnline.com has exclusively obtained the documents.
Article continues below advertisement
EXCLUSIVE DOCUMENTS: Bauer Publishing Sues Beckham For Legal Costs
Bauer is seeking "an order compelling plaintiff David V. Beckham to reimburse Bauer for the attorney's fees and costs that it has incurred to defend against his meritless claims and to prepare this fee motion. This amount will include $256,386.95 in attorney's fees, $15,506.61 of computerized legal research and $7,712.97 in costs," the court documents state.
The docs go on to state: "this motion is made on the grounds that Bauer is the prevailing defendant...which mandates that a prevailing defendant on a special motion to strike shall be entitled to recover his or her attorney's fees and costs....On February 14, 2011, this Court granted Bauer's special motion to strike and dismissed plaintiff's claims against Bauer with prejudice....
"Accordingly, Bauer is a prevailing defendant and is entitled to recover the fees and costs sought in thus Motion, which were incurred as a consequence of being forced to defend against plaintiff's lawsuit."
MORE ON:
Celebrity Justice
Article continues below advertisement
A hearing has been set for April 4, 2011 to determine how much money, if any, Beckham will be ordered to pay Bauer Publishing.
In the meantime, as RadarOnline.com previously reported Beckham has vowed to appeal Judge Real's ruling and clear his name.
Prostitute Irma Nici, 26, had alleged in the magazine that she had a series of sex romps with the dad-of-three for $10,000 cash in London and New York in 2007.
"Bauer do not dispute for purposes of this motion that their story is false," a spokesperson for Beckham, who is married to Posh Spice wife Victoria, told RadarOnline.com.
"They have not provided one shred of evidence to support the claim this story is true. David Beckham's clear evidence proved that this is without foundation."
RELATED STORIES:
Man In Divorce Case Claims His Wife Had Affair With David Beckham
David Beckham Insists He's Never Even Met Hooker Who Claims They Had Sex
Victoria Beckham Calls Husband David 'Perfect'