EXCLUSIVE: David Beckham Appeals $25M Libel Lawsuit Loss Against Hooker & Magazine, Confident 'Justice Will Prevail'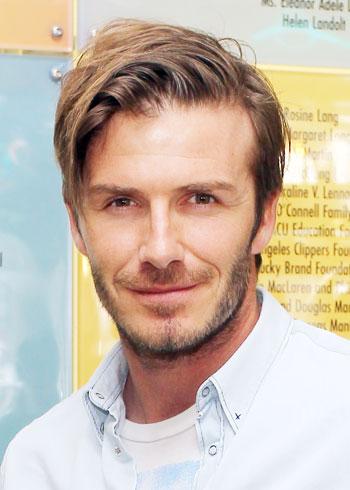 David Beckham has filed an appeal to a Californian court in a dramatic bid to overturn another judge's decision to throw out his $25 million libel lawsuit against a celebrity magazine over false claims he slept with a high-priced hooker.
"Notice is hereby given that Plaintiff and Cross-Defendant David Beckham hereby appears to the United States Court of Appeals for the Ninth Circuit," the terse two page court filing, obtained by RadarOnline.com, reads.
Article continues below advertisement
EXCLUSIVE DOCUMENTS: Read The Appeal
The appeal, which also named prostitute Irma Nici as a defendant, was filed around 11pm PT Wednesday.
A spokesman for the dad-of-three told RadarOnline.com, in an exclusive statement: "David is appealing both rulings and he is confident that justice will prevail."
In an article last year published in In Touch, 26-year-old Nici claimed the soccer superstar had a romp with her and another 'mystery brunette' at New York's Le Parker Meridien Hotel in August 2007
Becks, 35, proved in court documents that he was elsewhere at the time and even declared under oath: "I have never met (Imra) Nici, let alone committed adultery with Nici or paid her for sex!"
But a Los Angeles judge last month ruled that the England star's libel case was not strong enough to proceed and declared the story fell under "public interest" due to his celebrity status.
Beckham's plans to sue were also thwarted as, under complex U.S. law, he would have prove that the publisher acted 'with malice'.
Article continues below advertisement
In their original filing, Bauer said it did "nothing more than report what it believed was absolutely true, based on the firsthand recollections of Irma Nici as confirmed by" other sources.
However, Beckham established through evidence that Nici's story was entirely false and Bauer even conceded the falsity of Nici's story for purposes of its anti-SLAPP motion.
The court admitted that Beckham had pointed out "potential red flags" in Nici's story that the magazine should have picked up on and further investigated.
One source connected to the case told RadarOnline.com: "Among those red flags, we believe, were Bauer's refusal to obtain even a shred of documentary evidence from Nici, Bauer's apparent long-running desire to run a disparaging story about David, Bauer's failure to contact the hotels where these alleged affairs took place, Bauer's reliance on paid informants who also happen to be admitted criminals and Bauer's failure to give David a reasonable time to provide details demonstrating the story was false, before it was published."