EXCLUSIVE: Chuck Lorre Steps Out With Charlie Sheen's On-Screen Girlfriend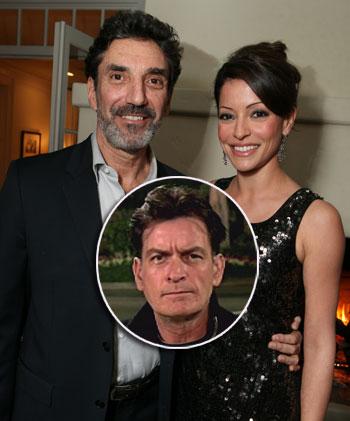 Talk about strange bedfellows!
Chuck Lorre and Charlie Sheen are rivals whose mutual disdain is EPIC! (as Sheen would say), but they have something in common: Emmanuelle Vaugier.
Vaugier is the beauty who played Sheen's on-screen fiancée Mia on Two and a Half Men and now RadarOnline.com has discovered that she's stepped out with Lorre, the show's producer and co-creator, to two recent events!
Sheen and his legal team blame Lorre for belittling the actor and creating the crisis that led to Sheen's firing.
Article continues below advertisement
And while Sheen and Vaugier had great on-screen chemistry, Lorre and Emmanuelle sure looked friendly when he stepped out with her to the Venice Family Clinic Silver Circle Gala on February 28 of this year and the Best Friends Animal Society event on January 22.
Lorre and Vaugier were photographed at both events. It is not known if they arrived or left together.
Even so, the irony sure is magnified by recent events!