EXCLUSIVE INTERVIEW: Charlie Sheen On Webcast Threats: I'm Playing A Character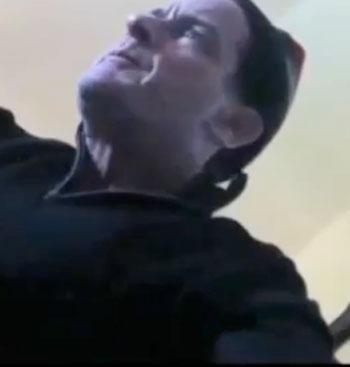 Charlie Sheen will tell a Los Angeles judge his internet broadcast in which he threatened to cut children's throat was a "piece of fiction" -- and the hell-raising star is likening his new role to Hollywood's controversial comic genius and raging boozer Lenny Bruce.
"It's a character in a piece of fiction," Sheen told RadarOnline.com in an exclusive interview, when told his estranged wife Brooke Mueller is planning to introduce the two broadcasts into evidence as part of their child custody battle over 23-month-old twin sons Bob and Max.
Article continues below advertisement
The embattled Two and a Half Men star added: "Think Lenny Bruce or the Mitchell Bros. It's part of my shtick."
Lawyers for Sheen, 45, and Mueller, 33, are frantically negotiating a possible peace deal, in a desperate bid to to avert a court face-off on Tuesday morning.
Mueller does not want Sheen to see their twin boys unsupervised, RadarOnline.com has been told.
In a bizarre broadcast from his Sherman Oaks, California, home on Sunday night, Sheen was recorded telling his associate/Tweet master Bob Maron that he wanted to continue his stream-of-consciousness monologues during his new web series Sheen's Korner, as opposed to the public access show format he broadcast the night before.
The actor said: "I'm gonna write my sermons, I'm gonna deliver them like truth torpedoes, and people are gonna f **king take it or leave it, we know they're gonna take it cause they can't process it, so they must condemn it, and it they can't condemn it, they'll like f **king turn me into a God and worship it, and realize I'm behind them, cutting their throats, and their children's."
When Sheen said the word "children's," the tape suddenly and noticeably segued into a different discussion.
Article continues below advertisement
As we previously reported, Mueller's legal team of Sorrell Trope and Lori Howe will use that webcast to make an argument that the embattled actor is spiraling out of control.
Responding to that, Sheen told RadarOnline.com: "OK, well they should use Two and Half Men to say I am a drunk and sleep with wh*res. That's all I am gonna say. That's my answer. Bring it. It's so f*cking stupid, if that's the best they've got. "