Exclusive
EXCLUSIVE: Charlie Sheen Webcast Rants To Be Entered Into Evidence By Brooke Mueller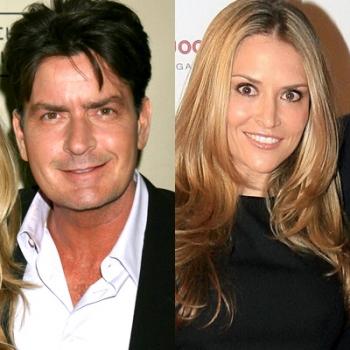 Charlie Sheen's webcasts, featuring bizarre and violent language, are going to be presented into evidence in family court by his estranged wife Brooke Mueller, RadarOnline.com has learned exclusively.
Mueller does not want Sheen to see their twin boys unsupervised.
In his most recent webcast, Sheen apparently talked about cutting children's throats.
Mueller plans to have her legal team present that and other webcasts as evidence on Tuesday, one source familiar with the situation told RadarOnline.com.
Article continues below advertisement
"Brooke is instructing her lawyers to present the webcasts into evidence, hoping to guarantee that Charlie NOT be given unsupervised visitation at this time," the source said. "She thinks Charlie is spiraling out of control, and Brooke doesn't want the boys to see Charlie unsupervised at this point."
Brooke's legal team of top LA lawyers Sorrell Trope and Lori Howe will use the webcasts to make their argument.
"Brooke was disturbed at comments Charlie made about cutting the throats of children, and the group of enablers that she believes is currently supporting her soon-to-be ex-hubby," the source said. "Brooke is concerned for Charlie and feels that he is totally losing it, and she doesn't want Bob and Max to be in an environment that isn't safe for them.
"Brooke wants the boys to see Charlie -- the twins are asking for him -- but she has to put their needs first."
Article continues below advertisement
Sheen's webcasts have grown more profane and bizarre and in Sunday's edition, the Two and a Half Men star launched into a profanity-laced tirade during a chat with his associate/Tweet master Bob Maron.
Said Sheen: "I'm gonna write my sermons, I'm gonna deliver them like truth torpedoes, and people are gonna f **king take it or leave it, we know they're gonna take it cause they can't process it, so they must condemn it, and it they can't condemn it, they'll like f **king turn me into a God and worship it, and realize I'm behind them, cutting their throats, and their children's ..."