Exclusive
EXCLUSIVE: Brooke Mueller Took Kids To Hotel After Removed From Charlie's Home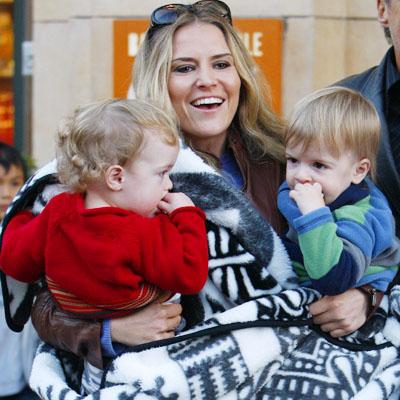 After Charlie Sheen's twin boys, 23-month-old Max and Bob, were removed from the actor's Los Angeles home Tuesday night, they were taken to a hotel in Santa Monica to be reunited with their mother Brooke Mueller, RadarOnline.com has exclusively learned.
A source close to Mueller tells us: "She's happy to have her kids back. She's doing well. When you're put in a situation like this, it only gives her more strength. It makes you want to be as strong as you can be and it almost gives her more strength."
Article continues below advertisement
As RadarOnline.com previously reported, Sheen told us in an exclusive video interview that he has proof that Mueller is back on drugs and showed us -- what he claimed -- was proof that she's still using.
Despite that claim, the source close to Mueller told us: "She's got her sober companion with her. The good thing is that she's sober and she's a very strong girl and she's testing clean."
As for the growing tension between her and her soon-to-be ex, the source said: "She (Mueller) wants both of them to have a relationship with their children.
"She's a very sweet girl and she doesn't like to fight with people."
But while Mueller may not like to fight, she may have no choice. Another source close to the situation tells us that Sheen will seek full custody of his twin sons so that he won't have to pay Mueller any child support.
"Charlie wants to seek full custody of the boys because he doesn't want to fork over the $55,000 a month in child support, plain and simple. Charlie is now very concerned about his finances because his show is now on hold," a source close to Brooke tells us.
Article continues below advertisement
The custody battle is "going to continue to heat up. Brooke is beyond p*ssed that she had to get a court order and get the police involved to see the boys. It was the last thing she wanted to do, but Charlie forced it, and gave her no other option. Charlie told the guards at the gatehouse where he lives to not let Brooke enter, under any circumstances," the source said.
Even though Charlie has recently passed drug tests, the source says, "Brooke has very, very damaging evidence proving what a danger Charlie is, and she will and has turned that over to her lawyers so she will have access to the children. Brooke is no saint, but neither is Charlie. The two of them need a timeout, and need to really put the interests of their children first, period," another source reveals.