PHOTOS: Bare-Faced Beauties: Stars Without Makeup!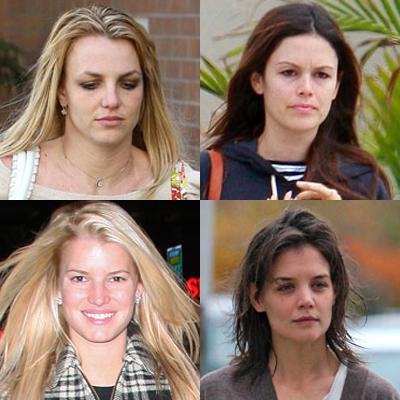 Stars are most definitely not like us, because they have trained beauty professionals to keep them looking gorgeous 99% of the time, but when their makeup artist has the day off it can bring them back to mortal status! RadarOnline.com has photos of Hollywood's hottest stars caught bare-faced and natural, in this special Stars Without Makeup feature. Can you recognize these Hollywood faces without their pancake armor? Click the next sentence and find out.
Article continues below advertisement
Click Here To See Stars Without Makeup
Though Britney Spears isn't exactly a stage beauty when she takes her face off, sassy singer Rihanna doesn't even need concealer to look fabulous. The Barbados-born beauty is one of those rare specimens, who looks flawlessly faced when she wakes up in the morning.
See Britney's bare face by clicking here and Rihanna's here.
Jessica Simpson is a blonde bombshell, who always looks made up and dressed to the nines, but even the curvy superstar has an off day. We caught Jess without a stitch of makeup on during a trip to NYC, and though she looked younger without her foundation, eye liner, blush and lipstick, she definitely wasn't turning heads.
Click here to see Jessica without makeup on.
Gisele Bundchen is one of the most gorgeous natural beauties in the world, and that is why she is the highest paid supermodel. The Brazilian babe looks just as sexy when she leaves the house bare-faced, then when she is made up for a photoshoot.
See Gisele bare-faced and beautiful by clicking here.
Just because a star is young, it doesn't mean they have an advantage to going sans makeup. While Taylor Swift still looks totally adorable without anything on her face, Vanessa Hudgens is hardly recognizable without makeup.