EXCLUSIVE INTERVIEW: Cyndi Lauper Speaks Out On Shocking Photos: 'I'm Going To Be OK'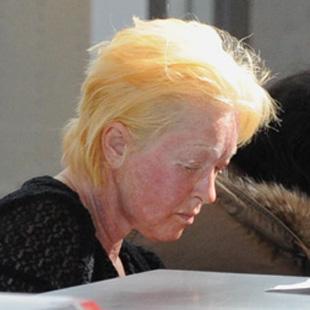 After shocking photos surfaced this week of Cyndi Lauper, the pop legend exclusively told RadarOnline.com on Tuesday : "I'm going to be okay."
The True Colors singer, 57, was photographed Monday with red blotchy skin around her normally flawless face as she boarded a flight from Los Angeles to New York -- sparking fears that she could be ill.
But Lauper revealed: "I'm just suffering from a rash. I'm going to be okay, really."
Article continues below advertisement
It's not known if the skin reaction was caused my too much sun exposure or perhaps even a chemical peel or other skin treatment, but whatever the case, the photos are definitely shocking.
Adding to the mystery -- Lauper looked her normal self last Thursday, during the unveiling ceremony of a Gray Line New York double-decker bus with her image on it.
RELATED STORIES:
VIDEO: Stars 'Give A Damn' About Homeless Gay Youth In New PSA