VIDEO: Cyndi Lauper's Message -- 'Give A Damn' & Save A Gay Youth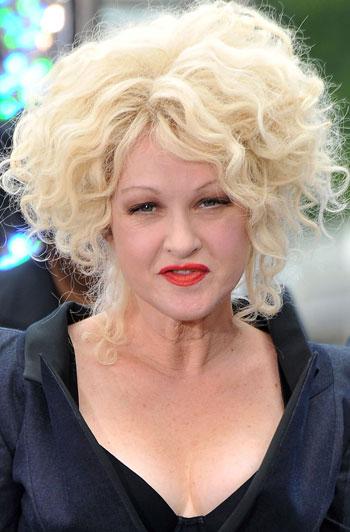 Pop star and gay rights activist Cyndi Lauper released another video Thursday featuring her Hollywood pals as part of her 'Give A Damn' campaign to bring equality to everyone, regardless of sexual orientation.
The latest on-line PSA features Lily Tomlin, Judith Light, Modern Family's Jesse Tyler Ferguson and Parenthood's Mae Whitman talking about the need to give a damn about the higher risk of suicide for gay and transgender youth.
Article continues below advertisement
Lady Gaga: Prop 8 Overturning Felt Like A "Revolution"
On the wegiveadamn.org Web site, Lauper includes a heartfelt personal message:
For young people, fall is often a time of new beginnings: new school year, new schedules, new adventures yet to happen.
Unfortunately, not every young person has something to look forward to in their life. Many gay, lesbian, bisexual and transgender youth struggle to come to terms with their sexual orientation or gender identity, while also seeking the acceptance of their family and friends. Sadly, too often they end up feeling so alone and rejected that ending their life seems like their only escape.
Throughout September, we are calling attention to the alarming epidemic of suicide amongst gay and transgender youth. Suicide is already the third-leading cause of death for young people ages 10 to 24, and it turns out that gay, lesbian, bisexual and transgender youth are actually 4 times more likely to attempt it than their straight peers.
As a parent, I shudder to think of the depths of loneliness and pain that kids must feel to even consider ending their own lives, much less attempt it. Enough is enough. We can't let this continue.
Article continues below advertisement
Today, we release our newest video featuring Lily Tomlin, Judith Light, Jesse Tyler Ferguson (Modern Family) and Mae Whitman (Parenthood) speaking out about this crisis. Please forward it and share it on Facebook and Twitter. Help the people in your life get informed, so that they can get involved.
Also, take a moment to read more about this issue and what you can do to help, and share the powerful personal stories of others who have dealt with suicide.
Thank you for giving a damn!
All my best,
Cyndi Lauper