VIDEO: Billy Ray Cyrus Says 'I've Got My Miley Back' -- Feels Like 'Daddy & Daughter Again'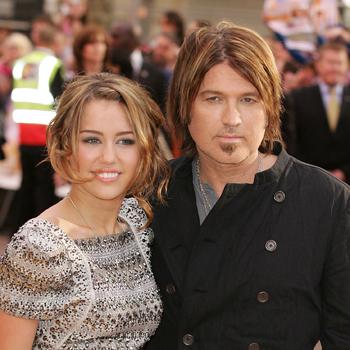 It's been a tough year for Billy Ray Cyrus, but the Achy Breaky Heart singer finally feels life is on the up at last, and most importantly that he's "got my Miley back."
Cyrus opens up to the ladies in a pre-taped interview on The View Friday, sharing that he and his precious daughter are working through their problems - and RadarOnline.com can bring you a snippet of his interview.
When asked how his relationship is now with his superstar daughter, Cyrus says: "The best it's ever been. I feel like I kind of got my Miley back in a way. I feel like we are the daddy and the daughter that we were before Hannah Montana happened. Our communication, we have laughed a lot in the last couple of days."
Article continues below advertisement
As RadarOnline.com previously reported, Cyrus raised the ire of Miley when he went public with their troubled relationship and his concerns for his daughter, whose life appeared to be spiraling out of control as scandal after scandal surfaced.
He told GQ magazine that he blamed fame and those that were handling his daughter's career for making "bad choices" and shared that he wished he
could turn back the clock and do things differently.
But it seems the two have been working hard to repair their relationship and Cyrus shares that they are now back in a good place once again.
He also talks about recent pictures that surfaced of a seemingly intoxicated 18-year-old Miley "stumbling" out of a New York restaurant.
"I was talking to Miley last night and she was talking about New York and then I noticed that she felt there was a sadness and I said Miley
Article continues below advertisement
are you... and she'd sent me a picture and I thought it looked like she'd been crying," Cyrus says.
"And I asked her and she said 'Well there's some stuff about a picture and they said I was drunk' and she said 'Daddy, I wasn't I had a meeting
with Dr. Luke' and I happen to know that Dr. Luke is one of the greatest songwriters in the world right now, he wrote Party in the U.S.A. and
Miley's working on a new album and that's very good for her creativity to be channeling that energy toward music.
"So she says 'I had a meeting with Dr. Luke and the staff and we were all there and I came out of this restaurant' and there were so many paparazzi that she said 'I couldn't see Daddy' and 'they were flashing' she said 'I held my hand up to block the flashes out of my eyes because I couldn't see to take a step.'
VIDEO: Miley Cyrus Looks Back On Hannah Montana & Forward To SNL
"I went back and re-looked at the picture and I go 'Baby I'm sorry it's just got to be tough.' She said 'It's embarrassing. It hurts my
Article continues below advertisement
feelings' and she said, most importantly, 'It was a lie. I wasn't drinking. I wasn't drunk. I was just trying to get to my car after a
meeting.'"
As RadarOnline.com previously reported, Cyrus also shared the good news that he has called off the divorce between him and Miley's mom, Tish, and the couple is working hard to repair their marriage.
The View airs at 11am E/PT on ABC.
RELATED STORIES: