VIDEO: The 'Apologizing Thief' -- Man Says He's 'Really Sorry' While Robbing Store At Gunpoint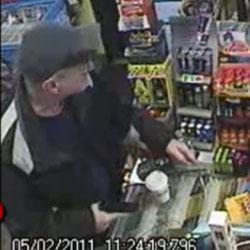 A thief caught on tape robbing a store owner of $300 was apprehended by authorities in Top Hat, Washington Monday, but not before starring in his own viral video, as he surprisingly apologized in earnest to the man he was robbing.
Watch the video on RadarOnline.com
The bizarre story took place at a Shell station in Seattle owned by John Henry, who was manning the counter at the time a man came in, bought a cup of coffee, pulled out a gun and told him, "I'm robbing you, sir.
Article continues below advertisement
"Could you do me a favor? Could you empty that till for me please, put that right here," the thief said.
Asked why he was committing the crime, the thief told Henry, "Because I need the money -- I have kids that need to be fed, sir. I'm really sorry to have to do this."
After Henry offered him $40, the thief demanded $300, got it and told Henry, "Thank you very much, and if I ever get back on my feet again sir, I'll bring it back."