VIDEO: Ted Williams Headed To The White House?!?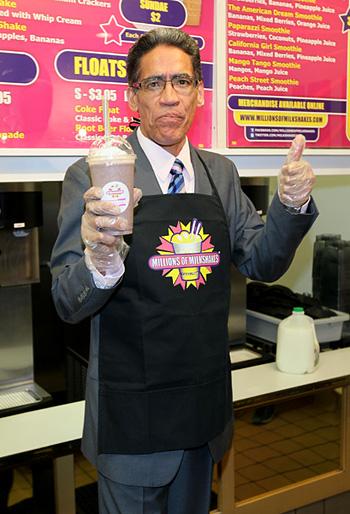 Ted Williams is off the street corner -- now, he's looking for an invitation to The White House.
The Man with the Golden Voice, who created a signature, Oreo-packed shake at West Hollywood's Millions of Milkshakes Thursday night, had a special message for the commander-in-chief.
"To Mr. President Barack Obama," he said. "I'm hoping to get an invitation to The White House... to let the world know, and President Obama know, that America is still the land of opportunity and second chances."
Article continues below advertisement
A jovial Williams looked like a changed man in the appearance, clad in a dapper suit with a sharp haircut and flashing a new movie star smile, while dancing and mugging for the cameras. Williams, 53, now a pitchman for Kraft, said he's donating the proceeds of his milkshake to his Ted Williams Second Chance Foundation.
MUGSHOTS: Golden Voiced Homeless Man Rap Sheet - See The Mugshots
As RadarOnline.com previously reported, Williams became an overnight celebrity earlier this year after a reporter for the Columbus Dispatch noticed him panhandling with a sign touting his amazing vocal talents, and recorded a video of him cutting a radio promo with a distinct, deep, baritone voice tailor-made for the masses.
Williams told the reporter in the now-famous clip that he's got a background in broadcasting, having gone to school for it. He said he worked a number of stints on different stations until "alcohol and drugs and a few other things became a part of my life."
VIDEO: Ted Williams Street Audition
Other celebs who have made appearances at Millions of Milkshakes include Miley Cyrus, Pamela Anderson, Jon Gosselin and Octo-Mom Nadya Suleman.