VIDEO: Ted Williams, The Homeless Man With The Golden Voice, Has 9 Kids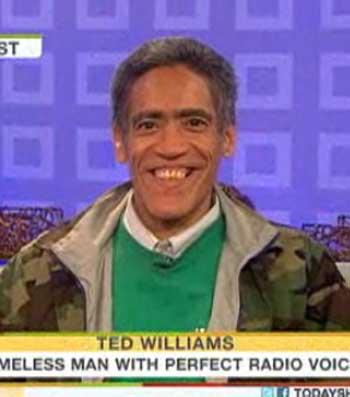 Ted Williams, the homeless man with the golden voice who's become the first YouTube sensation of 2011, told the Today Show on Thursday that he's got nine children -- seven girls and two boys.
Watch the video on RadarOnline.com
Williams, 53, did the intro for the show with his magnificent pipes. He said his children are all grown, and at the end of the segment, said hello to them by name.
Article continues below advertisement
Asked by Matt Lauer about the three-day transition from panhandling on the corner to being an Internet celebrity appearing on the Today Show, Williams remarked, "Isn't that something?"
Williams, a Brooklyn native, said he'd last been to New York in 1986. He said that after years of being a functional alcoholic, his life crashed down upon him in 1993, when he got mixed up with cocaine, both snorting and smoking it.
Asked about his record, Williams said he never committed violent crimes, just thefts to finance his drug addiction. He said he was fortunate to go before a string of lenient judges who never sentenced him to serious jail time.
As RadarOnline.com previously reported, Williams has been all over the Web after a reporter for the Columbus Dispatch noticed his panhandling sign touting his amazing vocal talents -- and sure enough, Williams unfurled a distinct, deep, baritone voice tailor-made for the masses.
Article continues below advertisement
Williams told the reporter (in a YouTube clip that's had nearly 12 million hits since Monday) he's got a background in broadcasting, having gone to school for it. He said he worked a number of stints on different stations until "alcohol and drugs and a few other things became a part of my life."
Since he's been discovered, he's been offered jobs by the Cleveland Cavaliers, as well as Kraft.
RELATED STORIES: