VIDEO: Lady Gaga Surprises YouTube Sensation Maria Aragon During Radio Interview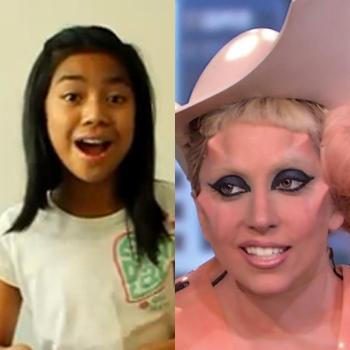 YouTube sensation Maria Aragon got the surprise of her young life when she got to talk to Lady Gaga during a radio interview, and you can see it here on RadarOnline.com.
The dream-come-true moment for 10-year-old Maria happened Friday during an interview with Billie of the Breakfast Show on Toronto's Virgin Radio 99.9.
Billie and Maria were chatting about the overwhelming response's Aragon's rendition of Born This Way has had on the Internet -- more than 1.5 million hits so far -- when the radio host told the little girl she had a surprise for her.
Article continues below advertisement
It was Lady Gaga calling in on another line!
Gaga told Maria that when she first saw Maria's Born This Way video, "I was so overjoyed that I began to cry. I was so happy.
"This industry is very difficult for women sometime and they want to tear us down and tear us apart and I worked on Born This Way for so long and I knew that the world would rip it to shreds when it came out but when I saw you so young and so beautiful singing those words so purely it reminded me why I wrote this song in the first place and it reminded me why I make music so thank you so much for making my day better and thank you so much for reminding me of why I do what I do and never give up on your dreams Maria," Gaga said.
The little girl began to cry and Gaga pulled her back, saying, "Do you have anything you want to ask me darling?"
She did! "Where do you get your outfits?" Gaga laughed and explained they are made by a group of close friends she calls the House of Gaga.
Billie then told Lady G her radio station is flying Maria from her hometown of Winnipeg to Toronto to see Gaga's concert there in March and the singer had one more surprise for her biggest fan.