Exclusive
EXCLUSIVE: Lady Gaga's Egg Story Cracks: She Didn't Spend 72 Hours Inside, Only Had 30 Minutes Of Oxygen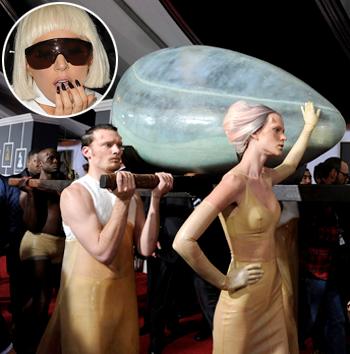 There's a big crack in Lady Gaga's claim that she spent 72 hours in the infamous egg that made her Grammy Awards' arrival a sensation.
The 24-year-old Born This Way singer appeared on KIIS FM's On Air with Ryan Seacrest on Tuesday morning and she told listeners she spent 72 hours in the egg.
The problem: RadarOnline.com has discovered she had only 30 minutes of oxygen!
But that didn't stop the talented Poker Face singer from getting creative with her story.
Article continues below advertisement
"I was in there for about 72 hours, and it was a very creative experience, and it was time for me to prepare and really think about the meaning of Born This Way and get prepared for the performance," Gaga said on Seacrest's show.
"I really wanted to be born on stage."
It's a great story, but scrambles the truth, according to a source with knowledge of the situation.
"The tank at the Grammy's only had 30 minutes worth of oxygen in it so Gaga's full of it for saying she was in that egg for hours!" a source close to the singer told RadarOnline.com exclusively.