VIDEO: American Idol Narrows The Field To 24; 7-Time Loser Flips Off Judges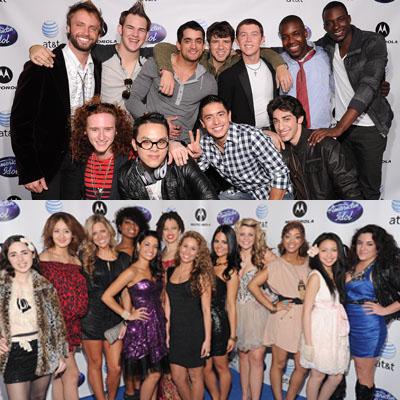 The stage is set -- American Idol judges Randy Jackson, Steven Tyler and Jennifer Lopez whittled the pool of contestants to 24 Thursday, indirectly ruining the birthday of Jessica Cunningham, an aspiring singer who'd hoped to make the cut.
Thursday marked Cunningham's seventh try-out for the Fox hit, but it would not prove to be a lucky number for the Maine native.
Cunningham, who turned 25 the day the show was taped, was one of the last hopefuls left hoping to make it into the final 24, but lost out to teen sensation Thia Megia in a squeaker.
Article continues below advertisement
"Getting cut on my birthday is evil," Cunningham said in her exit interview. "The judges ruined my birthday.
"You know what I have to say to that?" she said, before launching into a double middle finger salute. "I love ya, but come on!"
As for who did make the cut, standout Jacob Lusk got in with a rendition of God Bless the Child that Jackson described as "the single best performance on 'Idol,' ever."
In all, the top 12 men to make the cut were: Scotty McCreery, Stefano Langone, James Durbin, Jordan Dorsey, Casey Abrams, Tim Halperin, Robbie Rosen, Paul McDonald, Clint Jun Gamboa, Brett Loewenstern, Ashthon Jones and Lusk.
The top 12 women to make the cut were: Julie Zorrilla, Lauren Alaina, Lauren Turner, Tatynisa Wilson, Rachel Zevita, Pia Toscano, Naima Adedapo, Kendra Chantelle, Karen Rodriguez, Jovany Barreto, Haley Reinhart and Megia.