Russell Brand Kisses Jennifer Garner, Says Her Mouth Is Like 'Red-Velvet Cake'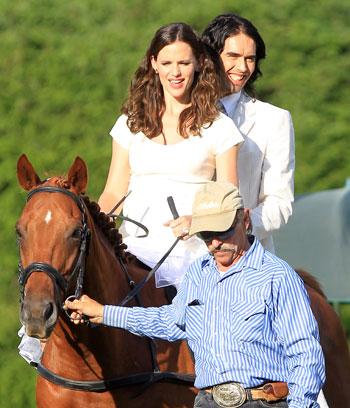 Newlywed Russell Brand might see fireworks with wife Katy Perry, but the funnyman says kissing Jennifer Garner is like "red-velvet cake."
Brand and Garner play love interests in the 2011 remake of Dudley Moore's classic, Arthur, and RadarOnline.com has details.
"She's like a fairy princess. There's a brand of red-velvet cake, her mouth is made of that," Brand said in an interview with NextMovie.com.
"She smashes you in the mouth in those kissing scenes. If I was Ben Affleck, man I'd be pissed off."
Article continues below advertisement
Garner isn't the only one Brand gets close to in the flick; he also snuggles up to 65-year-old Helen Mirren.
"I was in bed with her and she was reading me one of those bedtime stories, one of those sweet charming 'Frog and Toad' stories, and she did a dirty version of it," Brand said.
"She was like, 'Toad took Frog and mounted him from behind and amounted him smoothly with a rhythmic pace…'"
As RadarOnline.com exclusively reported, Brand and Perry wed in a traditional Indian ceremony last October in Jaipur surrounded by 70 of their closest friends and family members.
"They put everyone up at the Aman-i-Khas and even had saris and turbans sent to everyone's rooms so they could wear them to the rehearsal dinner," a source with inside information said.
"One of the cutest things is that Russell rode into the ceremony on an elephant, but there was another elephant walking beside his because apparently they're fraternal twins and can't be separated or else they'll both have panic attacks."