Ricky Martin & Kristin Chenoweth To Receive GLAAD Awards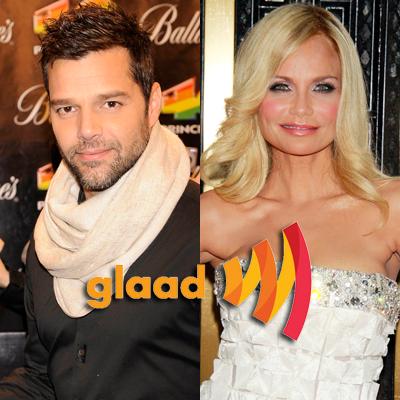 Ricky Martin will be honored by the Gay & Lesbian Alliance Against Defamation next month at its' 22nd annual Media Awards in New York, RadarOnline.com has learned.
The She Bangs singer will be given the Vito Russo Award, which honors an openly gay media professional who's made strides in promoting equal rights.
Martin, 39, long kept quiet about his sexuality until coming out of the closet in 2010, writing on his website, "I am proud to say that I am a fortunate homosexual man."
Article continues below advertisement
Martin's decision to reveal his sexuality to the public represents "a game changer for many gay and transgender Latino children," according to GLAAD President Jarrett Barrios.
Broadway mainstay (and Glee guest star) Kristin Chenoweth will receive a Vanguard Award from GLAAD at a separate ceremony in Los Angeles slated for April, after taking a public stand for gay actors in their ability to to play straight roles.
Last year, after Newsweek writer Ramin Setoodeh said Sean Hayes was unconvincing in his role as a straight man in the Broadway production of Promises, Promises, Chenoweth jumped to the defense of her co-star, calling Setoodeh's words offensive.
"I've observed nothing 'wooden' or 'weird' in Hayes' performance, nor have I noticed the seemingly unwieldy presence of a 'pink elephant' in the Broadway Theater," she said. "This article offends me because I am a human being, a woman and a Christian. For example, there was a time when Jewish actors had to change their names because anti-Semites thought no Jew could convincingly play Gentile."