PHOTO: 'Legally Inked' -- Miley Cyrus Gets Her Fifth Tattoo!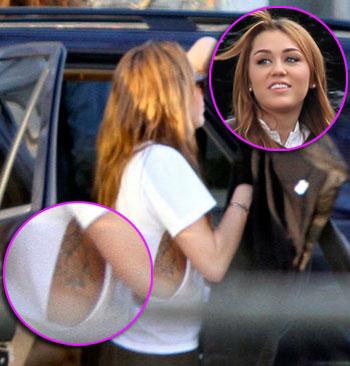 She's been voted worst role model for girls for the second year running, but Miley Cyrus has finally done something by the books, and got her first legal tattoo at the age of 18.
The wild child singer already has four other inkings -- which she got underage -- but she has now added another one to her collection and RadarOnline.com has the photo.
Showing off her body art in a strategically ripped t-shirt, Miley flashed her newly tattooed rib cage during a day out in Hollywood, California - where it is illegal to get a tattoo under 18 without a court order.
Article continues below advertisement
And while she was keeping up her tough girl image with a cigarette in hand, her new body art shows her softer side and is reportedly a dream catcher, penned to protect her four brothers and sisters.
Miley already has the phrase, 'Just Breathe' on her opposite rib cage, which was in honour of her friend who died of cystic fibrosis. She also has 'love' on her ear and a cross and heart on her fingers.
RELATED STORIES: